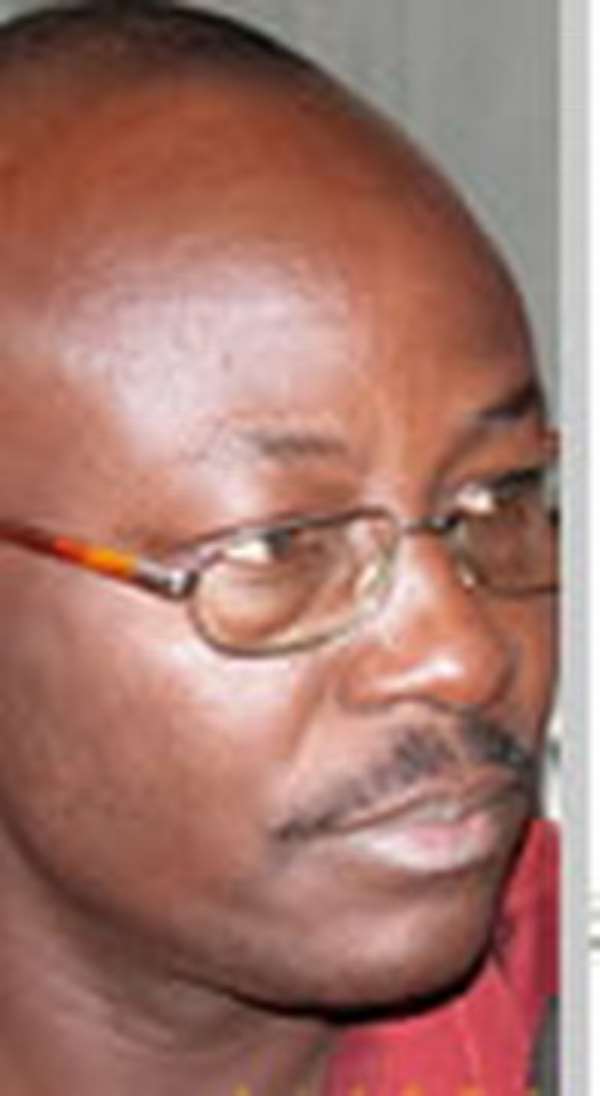 Defies court order, builds at alarming rate under police protection...
A weary Accra-based businessman yesterday told The Chronicle that months after he obtained a court injunction restraining the Secretary of the New Patriotic Party (NPP) from an Accra High Court, for taking what can be seen to be him taking an undue advantage of the party's property-owning democracy, he is returning to the court for redress a again!
Mr. Ohene-Ntow was dragged to court by the business tycoon, Mr. Yaw Boakye, for trespassing on his property, breaking parts down, while developing his property on the disputed land, exhibiting raw show of power even in the face of the law.
This paper can report that even after the Accra Fast Track Court, presided over by Justice P.K. Gyaesayor, on May 22, this year, had ruled that, "defendants or respondents herein, their agents, assigns, privies and the workmen, be and are hereby restrained from having anything to do with the disputed land," the NPP's Chief Scribe continued to build his underground property under what Boakye's friends insist was Police protection.
Boakye himself told the paper that indeed Ohene Ntow was developing the land under heavily armed police officers whom he said claimed to have been carrying out their duty on the instructions of the Inspector General of Police (IGP).
Police Pubic Relations Officer DSP Kwesi Ofori pleaded for more time to be able to respond to the specific question, as Superintendent Tabiri himself was unavailable and his cell phone failed to connect. Ofori said he was unaware of the details of the matter.
A visit to the building site by this paper on two occasions, revealed that the rate at which the workers were doing their work, could only be undertaken by a man who is flush with money.
The consultant of the NPP's scribe, who only mentioned his name as Nana, confirmed that indeed the case was before court but as far as he was concerned, he had nothing to do with the case, since he was merely carrying on with his work as a Consultant.
Prior to that visit, this paper gathered how the Police were granting protection to the builders of Ohene-Ntow's house.
Some party members however expressed disgust about the rate at which some party members were acquiring wealth illegally to the detriment of the party, including that of Nana Ohene-Ntow, when this reporter visited the party headquarters to track down the scribe.
Earlier, when this paper approached him about how he came by the plot and why he refused to respect the court's order, he directed this paper to contact Supt. Edward Tabiri, head of the Property Fraud Unit of the Ghana Police Service, who was recently discharged from the cocaine scandal investigations at the Police headquarters.
He said he would not like to make any comment until this paper came to him with reports from the Police.
Nana Ohene-Ntow, who earlier claimed he had no business in court and that the applicant was having the case with his landlady, failed to provide contact numbers for his landlady after he directed the paper to her.
This reporter offered to talk to him if he preferred to speak through his attorney; he momentarily agreed, but once again failed to provide the contact numbers of his lawyers, even though he called his lawyer in the presence of this paper.
Nana Ohene-Ntow, who is on record as having been cited in assault on reporters, wondered why The Chronicle, a paper he once worked with, would seek to write a story about him. However, Mr. Yaw Boakye said he believes in the rule of the law, and wish the courts would settle this matter expeditiously as Ntow is persisting in his 'illegal development'.
Relations of Mr. Boakye, who claimed that various searches at the Lands Commission gave no clue regarding who Nana Ohene-Ntow claimed to have bought the land from, have given signals that they would not sit down unconcerned for their bonafide property to be taken away from them.
Some of them corroborated this paper's information that indeed Ohene-Ntow was being given 24-hour protection and has now withdrawn from it because they have frustrated the people.
The NPP's General Secretary, though given the opportunity to explain his position for over four months now, has failed to make a categorical and definitive response.
His latest advance acquisition is currently causing a stir within the rank and file of the party but party members could not voice it out.
How Nana Ohene Ntow, whose last employment was under ¢4 million a month job as a lecturer, could find money to engage in such an expensive property development, with such acceleration, remains to be investigated.