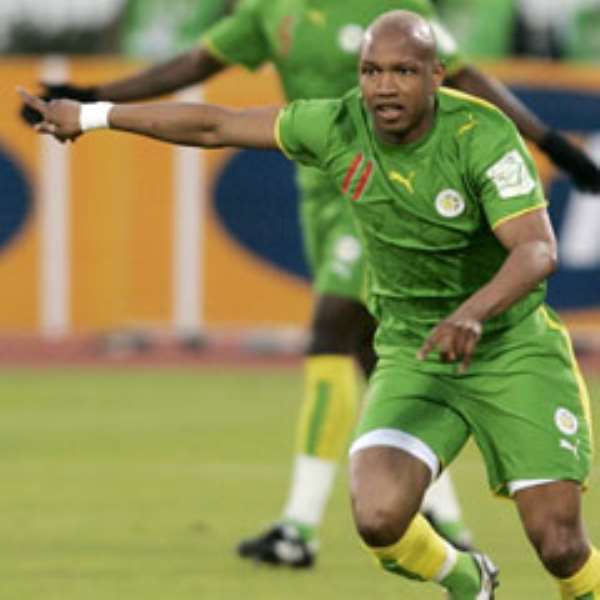 Diouf was arrested over allegations of beating his wife.
El Hadji Diouf has been arrested over allegations that he beat up his wife at their home.
The 25-year-old Senegal international was held by police following reports of an assault in the early hours of Sunday, November 5.
It was reported that the Premiership striker's wife, Valerie, called the police after it was said she suffered a cut lip.
A Greater Manchester Police spokesman said: "Police were called to an address in Bolton at 6.45am on November 5 following reports of an assault.
"Officers arrested a 25-year-old man on suspicion of committing assault.
"He has since been bailed pending further inquiries to appear at a police station on Wednesday.''
Diouf played in Bolton's 1-0 Premiership defeat by Wigan at the Reebok Stadium on Saturday.
The former African Footballer of the Year has been a controversial figure since joining Liverpool from French club Lens in a £10 million deal in 2002.
He has twice appeared in court following incidents of spitting. In September 2003 he was fined £5,000 at Glasgow's Sheriff Court for spitting on a Celtic supporter during the UEFA Cup quarter final with Liverpool.
Last November, he pleaded guilty to reckless behaviour at Teeside Magistrates' Court when an 11-year-old fan claimed he had been hit by juice the player had spat from his mouth in a match at Middlesbrough's ground.
Diouf, who reportedly earns £40,000 a week, claimed legal aid to fight the case and was fined £500 and ordered to pay £500 costs.
A spokeswoman for Bolton Wanderers declined to comment on the arrest.