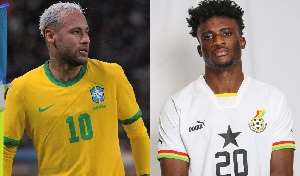 Ghanaian forward Kudus Mohammed has debunked news report about him criticising Brazil captain Neymar Jr.
Kudos says he has never said he is better than Neymar, as the Guardian Sports and other websites reported on Wednesday, November 23.
Speaking in an interview with Ghanaian sports journalist Gary Al Smith, the Ajax giant is reported to have said: "I'm bigger than Neymar; he is just a high-profile player."
But responding to the fake news, Kudus said he was trained to act according to his culture and family values.
He said those values urge him to give respect to whom respect is due, stressing that he can never disrespect Neymar in that manner. He said he wants to inspire younger generations just like Neymar.
"My family & culture raised me to respect the elderly. Neymar Jr., like Thiago Silva & many legends inspired us to dream. Just like Neymar Jr.," he said in a tweet.
He says his focus is on his game against Portugal today, November 24, in their first Group H match.
"I humbly want to inspire the next generation like they did. Guardian Sport what's the agenda? Al focus on tomorrow. FAKE NEWS," he replied to a post from Guardian Sports.
Watch his interview with Gary Al Smith below;