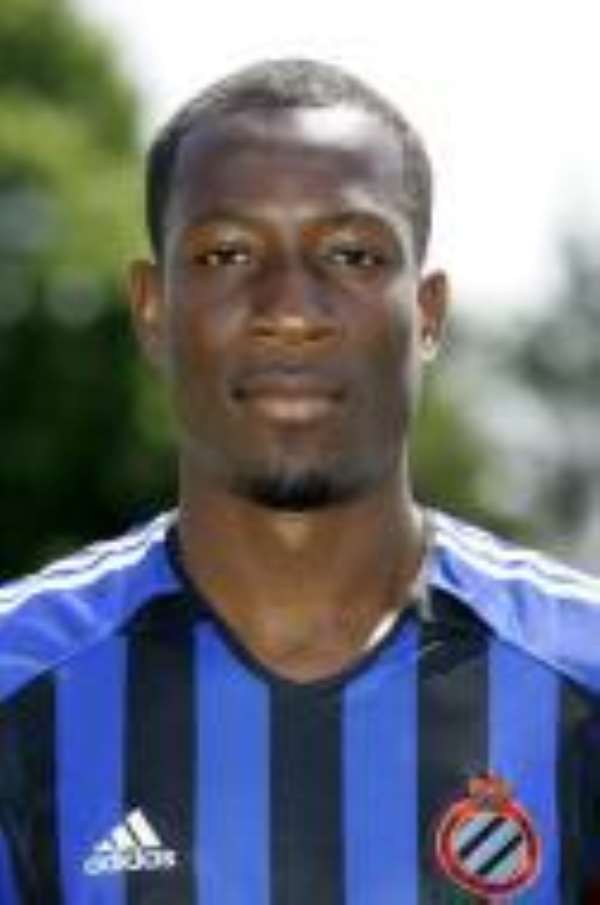 Ibrahim Salou
For 90 minutes on thursday night, i abandoned my desk and flicked to the UEFA Cup match between Tottenham Hotspurs and Club Brugge. Armed with my pen and note pad, i wanted to convince myself once and for all that Ibrahim Salou is good enough to play for the Black Stars.
My good pal Ratomir Dujkovic almost got caught in the player selection trap just before the World Cup, but ultimately those we took delivered so Ghanaians held their peace.It is the turn of Claude Leroy.....i hope you read this carefully.
The match in question incidentally ended 3-1 in favour of Spurs,but Salou did enough for me after only 10 minutes.Yes i felt justified but also bewildered that the 26 year old target man has still not being invited to even 'justify' his inclusion.
This is a striker who could be the key to Ghana's goalscoring puzzle....so give him a bloody chance to shine or flop! I have often being accused of doing PR for Ghanaian footballers to gain entry or selection into the Black Stars.
Who needs PR when your football speaks loud and clear like Michael Essien? Once upon atime in Ghana,even if your football shouts you may never get an invite until someone in authority sings your song. Maybe things have changed.
I love to make noise about our boys when they deserve it because they know i am also their hardest critic.....i will not deny it and i am proud of it.
Thankfully these players go on to more than justify their I can do it and stand by my actions because they are based on research,facts and evidence.
What sort of sports journalist worth his or her salt would not like to see the best footballers wearing their national colours? It is a shame when some of us have to literally plead with National team selectors to 'do their jobs' by simply observing players.
FA president Kwasi Nyantakyi may not be aware of Ibrahim Salou. Well he does now. As president maybe you can make your good office count and show us you really listen? Meanwhile Nyantakyi has now recruited a team of young and hungry sports writers to propagate the GFA news.
Tamimu Issa is the editor and he certainly has a lot of passion to give 100%. Good going i say to the FA president on this one....BUT it's not PR the GFA needs at this moment....(The Black Stars seem to have taken that mantle without sweat) Now is the time for practising real modern day football science at management as well as technical levels and you either do it the Chelsea, Madrid,Barcelona, Manchester United way or add up the numbers.
Time to grab the bull by the horns Mr President....your critics are your best friends is one truth i hope you will quickly learn. As for Leroy? It's too early let him enjoy 'small' (as we say in these parts)
Just by the way Salou scored the opener for the Belgian visitors in the 13th minute of the game. The goal he scored was a typical Salou conversion....a drilled right footed shot from 20 yards. He was marked out and took several knocks but he always got back on his feet.