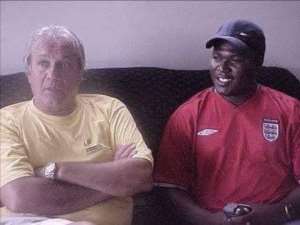 Mr. Ransford Antwi, the Sunyani-based businessman who Kwesi Nyantakyi has recently revealed as the brain behind the PUMA deal, secured ahead of the country's 2006 FIFA World Cup participation, has insisted that he has no intention of taking legal action to demand his share of alleged commission paid to faceless individuals.
According to Mr. Antwi, who again played a key role in getting Serbian Coach Ratomir Dujkovic to land the Black Stars job and subsequently leading Ghana to its first World Cup, among other things, insists he did what he had to do for the love of his country, and not for financial gains.
"Whatever I did was for the love of my country, Ghana. Kwesi told me no commission was paid and I believe him," Mr. Antwi said.
According to him, he demanded to be given a citation, which his friend Nyantakyi accepted to do for him but failed.
Mr. Ransford Antwi, who until recently was the Manager of Musician Kojo Antwi, however, feels that, how the nation has treated him and his friend Yaw Ampofo Ankrah, the two key actors, has a long-term implication on whether other Ghanaians would, out of their own will, do something for the benefit of all.
"There's a lot of ingratitude and lack of appreciation of people with good hearts in this country, unless you learn to blow your own horns, there's no way you'll be appreciated," he told the media.
"People are going to read and learn from the treatment meted out to me, and this explains why there's lack of patriotism in our country," he added.
Mr. Antwi however, believes that whenever the country decides to honour him for his selfless services to Ghana, he'll gladly avail himself.
"I'm happy the truth has finally come out and the youth of my Region and the country as a whole would take inspiration from this. I was only 32 years when I managed to do that an indication that the youth have a big role to play in the development of the country", he intimated.