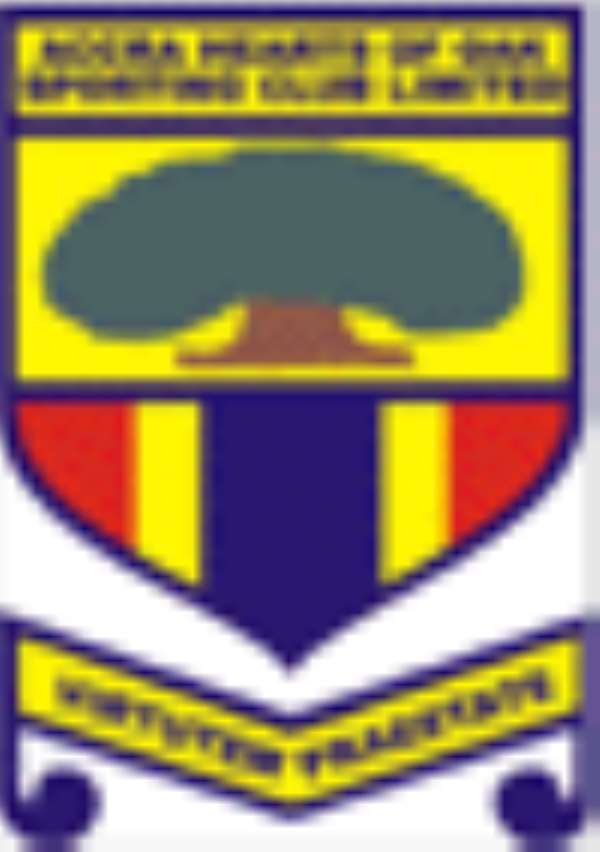 Accra Hearts of Oak refused to honour their seventh week match of the One Touch Premier League against Tema Youth this afternoon.
However in Sunyani, Kpando Heart of Lions held King Faisal to a one-all game at the Coronation Park.
Lions scored first through Abraham Annan while Faisal equalised from the spot through Owusu Agyemang. Both goals came in the second half.
Hearts say their action was in keeping with a court injunction restraining the Ghana Football Association from proceeding with the weekend's round of matches.
Akatsi based Listowel Lathbridge, central referee for the abortive match, whistled off the game after 20 minutes of waiting in vain for Hearts of Oak at the Tema Stadium.
Players of Tema Youth were already on the pitch by 3pm and broke into victory choruses as the referee blew the 'final whistle', sure that they would be awarded three points and three goals by the football association.
Football fans who turned up to watch the match refrained from paying the gates and only stationed outside the walls to await the arrival of Hearts, who were to play away.
On Friday the High Court granted a 10-day injunction on the Ghana Telecom Premier League.
The injunction followed an ex-parte application by a supporter of Hearts, Emmanuel Otu Quaye, who asked the court to compel the Ghana Football Association (GFA) and the Professional League Board (PLB) to come clean on the interpretation of Article 28 (1) (d) of the FA's statutes governing the game.
According to Otu, the game's governing bodies' interpretation of the provision was flawed with inconsistencies.
The Article in question states that "The Second registration Period shall begin from the last match date of the 1st round of the league and shall open for a period of four (4) weeks. The GFA may however sanction the registration of a Professional Player who is out of contract in exceptional circumstances."
Hearts of Oak recently sought to rely on the provision to register two players; Charles Taylor and Ishmael Addo for the league but the FA raised legal arguments to quash the move.
But officials of the Ghana Football Association said they were not aware of any court injunction since they had not been served any restraining order and asked Premier League clubs to honour the matches. The rest of the games would be played tomorrow.
According to a member of the FA's Legal Committee, Thaddeus Sory, no injunction had been served on the Association and it would not run its programmes on the basis of media reports of any injunction.