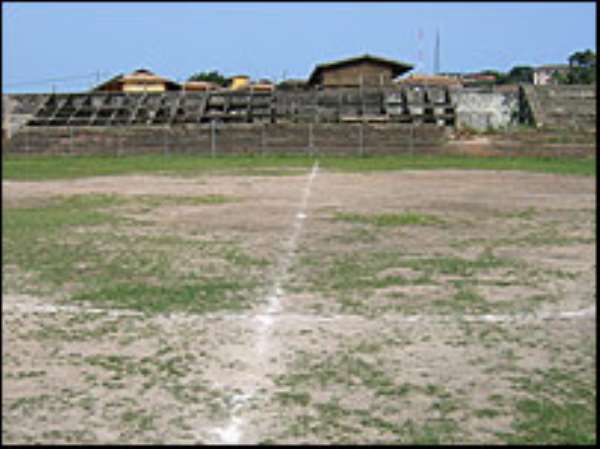 Gyandu Park, a premiership venue in Sekondi-Ghana which needs no introduction has really aided in talent development for Ghana soccer.
The mere mention of Paha and Ayipey brothers, Quarshie, Abbrey, Yawson, Coffie-the free kick expert reminds me of days where big clubs were made to look ordinary at the dreaded Gyandu Park. Clubs like Asante Kotoko should be the first to praise Gyandu for giving them Yaw Asamoah, Sam Ayipey, James Kuuku Dadzie, John Bannerman, Muhamed Polo, Joseph Hendrix, George Owu, Elvis Opoku some of whom had been part of the club`s continental stories.
In the 80s when Ackah Blay Meizah of blessed memory was stearing the affairs of Eleven Wise a.k.a `akarakachii`, the club was a team to beat alongside Hasaacas who eventually won the WAFU in 1982. The same period saw Emmanuel Quarshie, a product of Gyandu, lifting Nations Cup in Libya as the captain of the Black Stars. Henry Acquah of Hasaacas fame made it big when he joinied Hearts of Oak and crowned it all with a goal king title in 1988. Others like Philip Ayipey, Ebo Smith, Olabodey Williams, Isaac Ayipey were as well impressive with Hearts after parting ways with Gyandu. Anthony Annan, the latest product to join Hearts is taking too long to regain form. Hopefully, things would go well for him.
One featurre of Gyandu is that its products normally enjoy long years in football. Until 2002, Windsor Kofi Abbrey was still playing, many years after masterminding Kotoko`s 5:1 win over Zamalek of Egypt in Kumasi. Ebo Smith was playing active soccer throughout! the 80s and 90s. Other names like Sam Ayipey and Salifu Ansah were all over the place in the 80s and 90s. Now John Ainoo is to follow. This man started with Eleven Wise in the early 90s and is still playing active soccer with Hasaacas, not to talk of ex-Eleven Wise striker, Kwame Ayew who looks no near retirement. I was therefore shocked about the early retirement of ex-Dunkwa and Eleven Wise defender, Kalilu Dramani who was a mere under 16 during the FIFA/JVC championship in Scotland in 1989.
I admire the way some of these giants of the west have taken to coaching. Isaac Paha, Emmanuel Quarshie, Kuuku Dadzie are a few who have established themselves as excellent coaches in Ghana soccer. I believe more would be seen of Gyandu Park so far as it is still serving the premiership. Views expressed by the author(s) do not necessarily reflect those of GhanaHomePage.