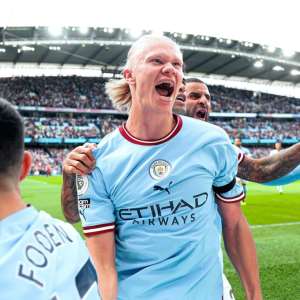 Norwegian goal machine, Erling Haaland was at his best again on Sunday afternoon as he continued his ruthlessness in front of goal in the English Premier League.
The former Borussia Dortmund poster boy started for Manchester City today in the derby against Manchester United.
In a game that produced the highest-scoring Manchester derby, Erling Haaland bagged a hat-trick for himself to help the Sky Blue outfit to run riot over their rivals with a delightful 6-3 victory.
Having assisted two goals as well, the prolific striker finished the game with a perfect rating of 10/10 for his outstanding displays.

www.sofascore.com
With his hat-trick of goals scored in the 34th, 37th, and 64th minutes respectively, Erling Haaland has become the 1st player in Premier League history to score a hat-trick in three successive Premier League home games
He has also become the quickest player to score three Premier League hat-tricks, doing so in just 8 games.
The next player on that list, Michael Owen did so in as many as 48 Premier League appearances.
In the match against Manchester United, Englishman Phil Foden also starred for Manchester City with a hat-trick.
Courtesy of the derby victory, Manchester City are second on the English Premier League table and just a point behind Arsenal.