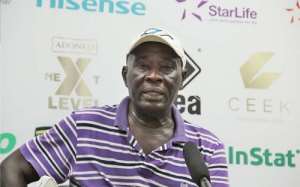 Black Galaxies coach, Annor Walker has reiterated that he would like the players who played the CHAN qualifiers to feature in the tournament in Algeria next year.
Ghana have been housed in Group C alongside Morocco, Sudan, and Madagascar.
While welcoming the result of the draw, the experienced coach opened up about his desire to keep the team that qualified for the tournament together.
However, he has warned that players who are not serious will be dropped from the final squad for the tournament.
"For the tournament, I would like to go with the squad I used to play the qualification unless some of them have traveled or injured. Your performance will also determine, " Walker said in an interview as quoted by Ghanasportspage.
"If you are not serious then you will be dropped. Definitely, since the league has started I will see some new players and allow them to try and if they can make it then I will make some changes," he added.
The tournament has been scheduled to kick off from January 13 to February 4 with four cities in the North African nation to host 18 teams.