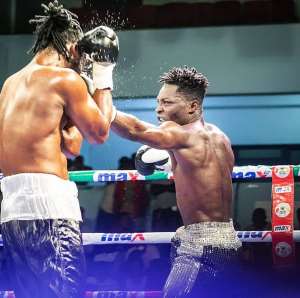 Fight Night 14 of the De-luxy Professional Boxing League promises to be exciting as crowd puller Charles Tetteh of Panix Gym is appearing against Michael Tagoe of Seconds Out Gym in a Featherweight contest on Saturday, October 1 at the Bukom Boxing Arena.
Mohammed Fuseni of Charles Quartey Boxing Foundation will face Klutei Robertson of Sonia Gym in an exciting Super Bantamweight clash.
Match Maker Yussif Mubarak said the organizers, Imax Media Promotions always want good fights and so he tries his best to find and match the best boxers to excite the fans.
He expressed that there would be other fights to make it another memorable night.
"We have a mouth-watering package this Saturday, and no boxing fan should miss," he said.
The League is sponsored by Imax Electronics, Imax Media, Max TV, Max Radio, Techno, Infinix, TCL, Max Buy, Renault, and De-luxy Paint.
The event is supported by TT Brothers and Eddys Piza.