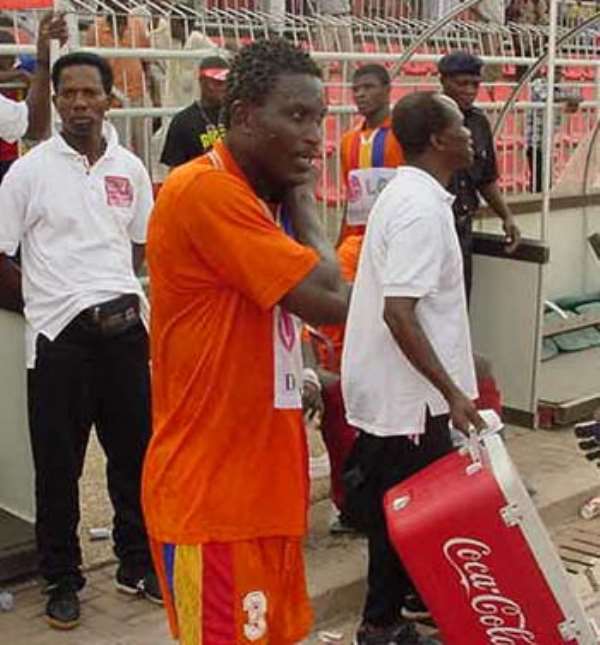 Accra, Oct 30, GNA - Ashgold's Emmanuel Osei Kuffour is still in the hunt for the goal-king title in the on-going GT Premiership after he scored his team's only goal through a penalty in their 28th week encounter against Tema Sportive at the Len Clay Stadium.
The penalty 11th goal brings Kuffour to a striking distance of Prince Tagoe's 12th goal lead.
Tagoe, last scored when Hearts beat Lions 3-0 at Kpando and has not been able to find the back of the net in the last two encounters against Bofoakwa and Power, giving the chance to the chasing pack to close in.
Below is the chart:
13 - Prince Tagoe (Hearts)
12 - Emmanuel Osei Kuffour (Ashgold)
10 - Eric Gawu (Faisal) Yaw Antwi (Bofoakwa) Sadat Bukari (Lions)
9 - Alex Asamoah (Arsenal) Alhassan Weah (RTU)
8 - Michael Helegbe (Liberty) Toufik Alolo (RTU) Eric Bekoe (Lions) Sumaila Nyaya Alhassan (Faisal)
7 - Mark Adu Amofa (Sportive) Kwame Obeng Darko, Mustapha Essuman (Liberty) Amui Quaye (Hotspurs) Ekow Ghansah (Dwarfs)
6 - Ben Moses Andoh (Hasaacas) Kofi Nti Boakye (Liberty) Francis Aggrey (Arsenals) Douglas Nkrumah (Kotoko)
5 - Shaibu Yakubu (Ashgold) Nasiru Ghani, Daniel Acquah (Kotoko) Awudu Alhassan (Hasaacas) Faruk Adamu (Okwawu) Jonathan Abieku (Power) Mahdi Abubakar (Feyenoord)
4 - Nana Arhin Duah, Aziz Ansah (Kotoko) Francis Bossman, Alfred Nii Larbi, Adjah Tetteh (Hearts) Peter Ofori Quaye (Liberty) Samuel Aryeetey (Dwarfs) Danladi Sherif (Feyenoord) Addai Owusu (Arsenal)
3 - Dan Quaye (Hearts) Nana Yaw, Kwabena Yaro, Sampson Ocran (Power) Abubakar Yahuza, Edmund Owusu Peprah, Habib Mohammed (Faisal) Eric Adu-Poku (Arsenal) Osei Morrison (Hotspurs) Opoku Agyeman (Ashgold) Iddi Yekini, Nafiu Iddrisu (Feyenoord) George Yamoah (Kotoko) Kwame Antwi, Issaka Ibrahim (Okwawu) Richard Ackon (Dwarfs)
2 - Douglas Mustapha, Michael Amissah-Isaidoo (Dwarfs) Amankwah Mireku, Bernard Don Bortey, Dan Quaye, Anthony Annan (Hearts) Anas Mohammed and Kwame Addo (Hotspurs) Mohammed Abubakari (Feyenoord) Felix Baffoe, Michael Osei, Stanley Afedzie (Liberty) Sadat Mohammed, Kingsley Agyeman, Osei Boateng, Senyo Reubin and Emmanuel Nuhey (Bofoakwa) Akwesi Soale, Gafaru Habib, Hamza Mohammed and Philip Amoaku (RTU) Charles Asamoah, Thomas Mensah, Addoquaye Addo, Awudu Adama (Power) Kwabena Poku and Prince Antwi (Faisal) Yusif Chipsah, Daniel Bomfa (Kotoko) Azuma Nelson (Okwawu) Dramani Hamidu (Lions) Samuel Enzemeba, Richard Yeboah, Esme Mends (Sportive) Suraj Samad (Hassacas) Prince Yeboah, Ibrahim Yahaya, Osei Kofi, Anthony Mintah (Arsenal) Daniel Asamoah (Ashantigold)
1 - Ablade Morgan, James Boateng, George Eranio, Solomon Okutu, Issah Mohammed, Eric Quarshie, Lawrence Adjei (Hearts) Dan Acquaye, Albert Williams, Ellis Samuel, Kingsley Kwarteng, Anthony Davis, Oblitey Mensah, Alidu Moses, John Ainoo, Francis Pobee (Hasaacas) Francis Coufie, Moses Abban, Ben Adu Yeboah, Allan Shearer (Power) Fatawu Seidu, Mohammed Baker, Nurudeen Wemah, Gafaru Abdulai, Abass Iddrisu and Fatawu Mohammed (RTU) Isaac Morgan, Obed Ansah, Ibrahim Suleman, Joseph Masiru, Anas Alidu, Jonathan Qaurtey, Jerry Akaminko, Steven Owusu, Dan Ogbeche, Abraham Annan (Lions) Osei Antwi, Ofosu Micky and Shilla Illiasu (Faisal) Stephen Amankwah, James Boadu (Arsenal) Kwabena Dodzi and Issah Ahmed (Kotoko) Isaac Oppong, Ibrahim Mohammed, George Ohemeng, Gimbah Aziz, Nii Nanka Bruce, Michael Asafo and Kwabena Boateng (Hotspurs) Agyeman Hanson, Eric Boakye, Wahid Mohammed, Alex Nii Aryee (Liberty) Mohammed Ibrahim, Hamza Abdulai, Nuhu Fusanu, Samuel Ocran, Stephen Afful, Joel Adjei, Umar Gariba (Sportive) Emmanuel Atta-Effi, Alhassan Shamu, Rasid Alawe, Nana Ato Quansah, Ernest Adu (Dwarfs) Obed Owusu, Abubarkar Yusuf, Aminu Ayuba, Wisdom Abbey (Okwawu) Kwaku Sarpong, Ofosu Amoah, Alfred Arthur, Kofi Deblah, George Owu, Lamine Nassir (Ashgold) Yaw Frimpong, Jordan Opoku, Dominic Adiyiah and Theophilus Akpo (Feyenoord) Doe Joseph (Bofoakwa). 30 Oct 05