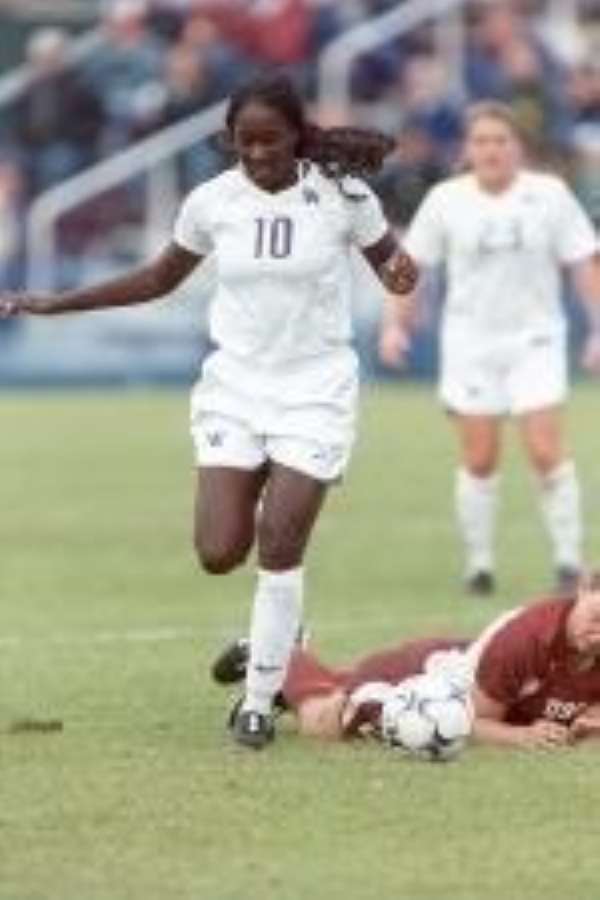 Even though the senior national team of Ghana, the Black Stars have never been to the World Cup, the other national teams in all the categories have been there at one time or the other, thereby selling Ghana's football name all the world over. It was however interesting to know that the young and beautiful ladies who represented Ghana's female side, the Black Queens at the last World Cup here in the U.S. repeatedly and constantly won a standing ovation anytime they played in every single match at the venues, both at the Home Depot Centre, Los Angeles and at the PGE Park, Portland,Oregon.
No wonder, in two of the three matches that they played against China and Australia, FIFA's Technical Study Group picked Ghana's Elizabeth Baidu and Adwoa Bayor as the Bud Light Players Of The Match. And watching them display such level of soccer artistry and flair from the stands two years ago, I could not have accepted being a native of any other country than Ghana. I was, and still am proud to be a Ghanaian anytime I see any Ghanaian sports personality displaying the stuff Mother Ghana is made of. In the same year 2003, another young Ghanaian female soccer star, Tina Frimpong was selected as the 2003 Pac-10 Co-Player Of The Year in The United States Of America. Tina, whose 27 career goals was the second highest total in UW history behind the school-record 34 of the then current assistant coach Tami Bennet(1997-2000).
Born May 20, 1982 in Vancouver, Washington to parents, Joe and Eka. Her twin sister, Crystal, was a starter at Florida who completed her career last season. She has a daughter, MacKenzie, who was born on March 8, 2001. She originally signed to play at Santa Clara in 2000, but never took classes there and sat out the 2000 fall competitive season, where she served as senior class secretary of the student government at Hudson's Bay High Schoo.l She Played three years with the Washington state Olympic Development Program and participated with the Region IV ODP team that toured Europe, helping the Lake Oswego Soccer Club win the 1998 and 1999 state championships and advanced to the regional quarterfinals in 1999. In the same year, she was a member of the Columbia Premier Soccer Club and played with the Seattle Sounders Select team, helping them reach the 2003 W-League semifinals. She scored three goals in three regular-season appearances and netted five goals in three playoff games, including a pair in Seattle's Western Conference final win at Vancouver and threw out the ceremonial first pitch at a Seattle Mariners game during the spring of 2004 ... Majoring in economics.
But if you still want to read more about pretty Tina, you can go ahead and read this:
The 2003 Pac-10 Co-Player of the Year ... Three-year letterwinner whose 27 career goals are the second-highest total in University Of Washington(UW) history behind the school-record 34 of current assistant coach Tami Bennett (1997-2000) ... Tied in the No. 2 career scoring spot with Tara Bilanski (1992-95) and Theresa Wagner (1997-2000) ... Frimpong also ranks No. 2 among UW players in career game-winning goals (10) and No. 6 in points (62) ... Netted two hat tricks during her career and has eight multiple-goal games. 2003 (Junior) - Played all 21 games, starting 19 of them ... Received All-America accolades from three publications ... The Soccer Post magazine selected Frimpong as one of three forwards on its second-team All-America squad ... She received third-team All-America recognition from Soccer Buzz and Soccer Times ... Was named the Pac-10 Co-Player of the Year for women's soccer along with UCLA defender Nandi Pryce ... The second Pac-10 Player of the Year award recipient in Husky history, joining goalkeeper Hope Solo who garnered that honor following her junior season in 2001 ... A first-team All-Pac-10 selection ... Honored as a first-team All-West Region selection by Soccer Buzz and the National Soccer Coaches Association of America (NSCAA) ... The 13 goals scored by Frimpong represent the second highest single-season total in school history. Current UW assistant coach Tami Bennett established the school record with 16 goals during the 2000 campaign ... Frimpong nearly equalled the goal output from her first two years combined when she netted seven goals each season ... An honorable mention All-Pac-10 academic team selection. 2002 (Sophomore) - Played all 20 games, starting 17 of them ... Led the team with three game-winning goals, against Arkansas (Aug. 30), Oregon (Oct. 11) and Oregon State (Oct. 13) ... Opened the season with her second career hat trick, against Arkansas (Aug. 30) ... Tallied a pair of goals in a 2-1 win at Oregon (Oct. 11) ... Distributed four assists, including two that created game-winning opportunities ... Played during the summer with the Seattle Sounders women's team. 2001 (Freshman) - Played all 20 games, starting 10 of them ... Led the team with seven goals and ranked second on the squad with 14 total points despite returning from a year-long absence from soccer participation due to the birth of her daughter ... Registered a hat trick with three goals in a 4-0 win over Idaho (Sept. 9) ... Also had a multiple-goal outing at USC (Nov. 4), scoring twice against the Trojans in a 3-0 victory ... Netted two game-winning goals, against Idaho (Sept. 9) and at USC (Nov. 4) ... Tallied the second goal in UW's 2-0 triumph over San Diego (Nov. 16) in the first round of the NCAA Tourney.
Hudson's Bay High School: A four-time Greater Saint Helen's League first-team honoree ... Named the GSH league MVP in 1998 and 1999 ... Served as team captain her final two years ... Hudson's Bay won three Greater Saint Helen's League championships and reached the 1998 state quarterfinals ... Voted the Randy Myers Foundation Female Soccer Athlete of the Year in 1998 ... Also lettered in basketball and track ... Placed eighth in the 100 meters at the 1999 Washington state championships ... Honored as the Randy Myers Foundation Female Track Athlete of the Year in 1999 ... Named the KVAN Radio and TV Female Athlete of the Year. A Taste Of Motherhood: Five years ago, Tina was one of the West Coast's most sought-after prep recruits, having earned numerous prep accolades and starred on select teams that traveled around the world. Having turned down the chance to stay close to home and attend Washington, or to travel to Florida to play with her twin sister, Crystal, Frimpong was instead headed to California, where a scholarship offer from the No. 1-ranked Santa Clara Broncos awaited.
Just weeks before heading to Santa Clara, however, Tina learned she was pregnant.
"I knew my life had changed forever," she says.
Frimpong opted to give up her soccer dream in favor of motherhood, enrolling instead at Vancouver's Clark College. About three to four months into her pregnancy, however, Frimpong felt the pull back to soccer. Wanting to still be close to her family in Vancouver, Frimpong placed a call to Washington's Leslie Gallimore.
And when I spoke to her coach, this is what she said: "Tina wanted to have her best year ever at Washington during her senior year, but that was tough to do to top the year. She needed to figure out how to play in every single game when every single opponent was gunning for you. Until you are running next to her and seeing her switch it into sixth gear, there is nothing like it. When she turns on you and you see how quick and powerful her shot is and how fast she can get it off at times, you just don't know what that's like until you are out there. She is not going to sneak up on anybody, but that is also the beauty of our team because our team is not geared around Tina. There are plenty of other capable people, so if they want to send one to three players to her than I really think that we have enough good players at other attacking positions to make up for it. Thank God she's here today and playing for the U.S. national team".
And as I watched her on the screens when U.S.A. beat Ukraine 7-0 in the July 10 friendly at the Merlo Field on Sunday, I said to myself that success comes through determination. Here she was, playing alonside the likes of team captain Kristine Lily, Shannon Boxx, Briana Scurry, Kate Markgraf, Tiffeny Milbrett and the rest of the players in the U.S. female senior soccer team.
Unfortunately, she is over 23 years and might not be able to play for the Black Queens Of Ghana.