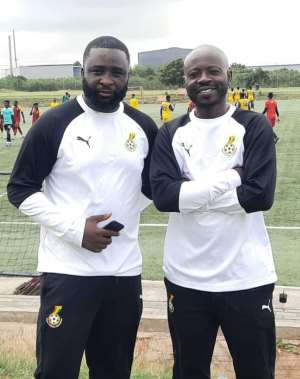 Mr Julius Ceaser Bekley, the Assistance Head Coach of the Senior National Beach Soccer Team Black Shark has said the team is ready and poised to rise the flag of Ghana higher once again.
According to him, the team will do everything possible to go past the Egyptian counterparts Sand Pharaohs to make it to the Beach Soccer African Cup of Nations scheduled for October 2022 in Mozambique.
He stated that the team is in good spirit to deliver and make Ghanaian proud.
"Myself, the head coach and the entire technical team are putting things together for the success of the team," he said.
The former Black Sharks captain who is now the Assistant Coach in an exclusive interview with ModernGhana news noted that the team will continue to keep the undefeated home record when they face off Egypt.
"We are poised for action,we will beat Sand Pharaohs hands down, they can't stop our undefeated home records," he added.
Michael Sema, the captain of the Black Sharks promises the team will surely beat Egypt and make it to AFCON in Mozambique.
Black Sharks has been at camp for two weeks and will be rapping up preparations for the qualifiers on Saturday, July 23.
The Black Sharks of Ghana will face off with the Sand Pharaos of Egypt on Saturday July 23 for the first leg of the Mozambique AFCON 2022.
Ghana is expected to travel to Egypt for the return leg later in the week.
The winner of the game qualifies to the 2022 AFCON in Mozambique in October.
Meanwhile, CAF has appointed Mr Jelili Adeniran Ogunmuyiwa, Mr Olawale Adeolu Fawole and Olayinka Elijah Olajide from Nigeria as referees 1, 2 and 3 respectively.
Mr Ahmad Rabiu from Nigeria will serve as time keeper whilst Omar Gueye Ndiaye from Senegal will serve as the match commissioner.
Other Beach Soccer AFCON qualifiers on African soil include:
Seychelles vrs Madagascar
Comoros vs Uganda
Malawi vs Tanzania
Libya vs Nigeria
Côte D'lvoire vs Morocco
Cameroon vs Senegal
Ghana vs Egypt.