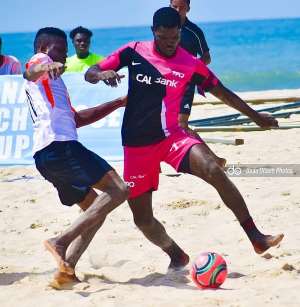 The Laboma Beach Resort was the action spot over the weekend, on Saturday and Sunday hosting the Ghana Beach Soccer FA Cup where the new clubs are putting up a great performance and producing surprising results.
Cheetah FC who have poached most of the experienced players are doing well in their first experience in beach soccer.
Ocean Stars, another new club are also doing very well with their young skillful players.
Keta SunSet are also showing what they love doing on the beach, and they are leading their group.
The President of the Ghana Football Association, Mr. Kurt Okraku was at the opening day to officially make the historic kick-off. He was supported by Hon. Jerry Ahmed Shaib, CEO of CODA and Hon. Mohammed Adjei Sowah, former Mayor of Accra.
Also present at the beach was Mr. Prosper Harrison Addo General Secretary of the GFA, Klala of Obonu TV fame, and some media personnel.
Yaw Ampofo Ankrah, Chairman of the Ghana Beach Soccer Committee said the competition has not been held but the clubs have been training on their own, and those who are serious are exhibiting it.
He noted that the rules of the game have been amended and players must know and not challenge match officials.
The best club, best player, goalkeeper, coach, and goal king are assured of products from Techno.
Here are the results recorded over the weekend.
Group A
Dansoman BSC 0:1 Tema United
Cheetah 4:3 Kedzi Miracle
Group B
Nungua Bsc 4:7 Pee Talent
Ocean Stars 7:4 Havedzi BSC
Group C
Teshie United BSC 4:6 Ada Assurance
Keta Sunset 4:1 Okere Rangers
Group D
Layoca 1:4 Sea Sharks
Iron Breakers 1:0 Senya Sharks
Week 2 Sun 29/5/2022
Group B
Dansoman BSC 1:8 Cheetah BSC
Tema United 3:4 Kedzi Miracle
Group B
Nungua Bsc 6:8 Ocean Stars
Pee Talent 2:1 Havedzi BSC
Group C
Okere Rangers 2:3 Teshie United BSC
Ada Assurance 3:5 Keta Sunset
Group D
Senya Sharks 3:4 Sea Sharks
Layoca 3:2 Iron Breakers
Group Table
Group A
1. Cheetah BSC 6pts 8 goals
2. Tema United 3pts 2 goals
3. Kedzi Miracle 3pts 0 goals
4. Dansoman BSC 0pts -10 goals
Group B
1. Ocean Stars. 6pts 5 goals
2. Pee Talent 6pts 4 goals
3. Havedzi BSC 0pts - 4 goals
4. Nungua Bsc 0pts - 5 goals
Group C
1. Keta Sunset 6pts. 5 goals
2. Ada Assurance 3 pts 0 goals
3. Teshie United BSC 3pts - 1pt
4. Okere Rangers 0pt - 4 goals
Group D
1. Sea Sharks. 6pts. 4 goals
2. Iron Breakers 3pts. 0 goals
3. Layoca 3 pts -2 goals
4. Senya Sharks 0pt - 2goals