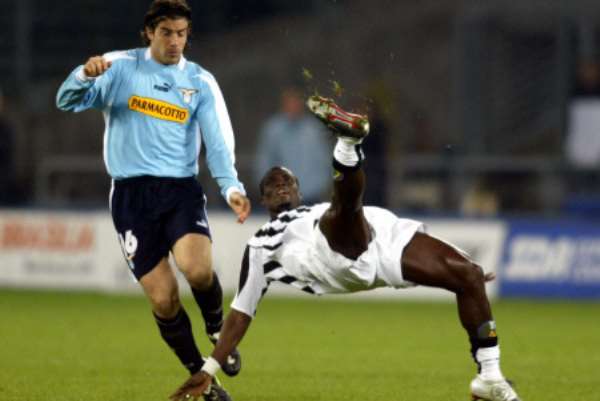 Faced with the possibility of the exit of their talismanic captain Patrick Vieira to Real Madrid, English Premiership champions Arsenals have opened talks with the Juventus to buy the captain of the Black Stars Stephen "Tornado" Appiah.
The first report of this development emerged yesterday in "The Sun", the biggest newspaper in the world. This was after Vieira told Arsene Wenger the manager of Arsenal; he was on his way to Real Madrid in a bust-up over transfer policy.
The captain of the Gunners stunned Wenger by saying: "You never sign world-class players" and argued Arsenal will NEVER conquer Europe's elite unless that changes. The furious manager's acid reply was: "You weren't world-class when Arsenal signed you."
This has led Arsenal to look for a replacement for Vieira. The report in "The Sun" mentioned four players targeted by Arsenal for Vieira's position. The players are Maniche, the star midfielder of the Portuguese national team, Stephen Appiah of Ghana, Michael Ballack of Germany and David Bechkam of England.
Speaking for the first time since the publication of the story in England, Stephen Appiah confirmed Arsenal's interest in prising him away from the Italian giants Juventus.
In an exclusive interview with GHANAWEB from Portugal where he is camping with the national U-23 team the Black Meteors, Appiah said: "The first time this story came up was when Juventus tried to sign Sol Campbell some few weeks ago. I hear Arsenal wanted me for an exchange which Juventus turned down."
Appiah: "This new report will definitely increase the pressure on my team to release me but I have a five-year contract with Juve and I like it there. It will be very difficult for Arsenal."
The Black Stars captain failed to talk on the progress of negotiation for his release saying: "this is beyond me."
But it is no secret that Appiah will relish a move to England after nearly eight years in Italy. A close associate of the Stars captain said: "he would love his kids to have their education in an English country and that might motivate him to move to England."