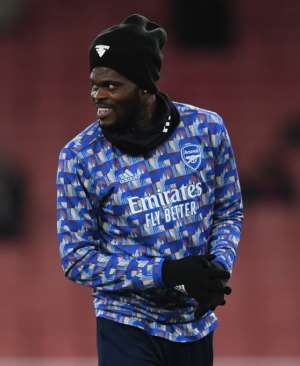 Midfielder Thomas Partey has been named on Arsenal bench for the Carabao Cup second semifinal clash against Liverpool.
The Gunners will host Jurgen Klopp's side at the Emirates Stadium.
Partey was in action on Tuesday night as Black Stars were humbled by debutants Comoros in the ongoing 2021 Africa Cup of Nations [AFCON].
He assisted a goal but it wasn't enough as Black Stars suffered a 3-2 defeat to exit the tournament with just one point and bottom of Group C.
Partey after the match, amidst the disappointment, travelled back to north London to team up with Arsenal to prepare for the semi-final match against Liverpool and has been named on the bench.
Speaking ahead of the tie, Mikel Arteta revealed that the midfielder arrived in the UK at 12:00 PM and went straight to the team hotel.
"He [Thomas Partey] landed at midday and came straight to the hotel and he wants to be there on the bench, ready to help," the Spanish gaffer told Sky Sports.
He could feature as Arsenal seek to win the second leg match at the Emirates to set up a final clash with Chelsea. The first leg ended 0-0 at Anfield.