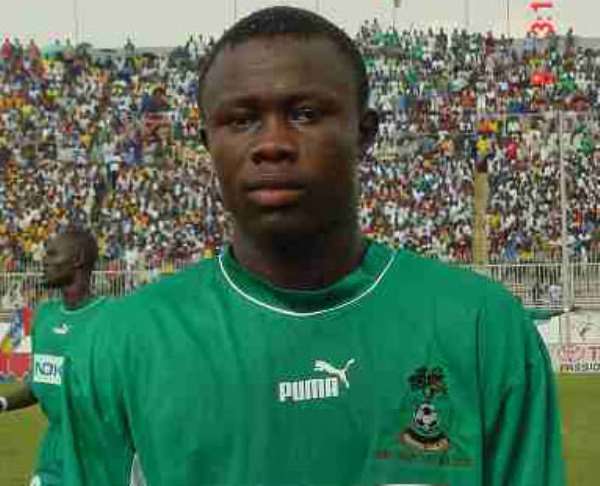 As the curtains for the 2003 Kinapharma Premier League draws to a close this weekend, the transfer mill is already in operation, with players who have hit the headlines during the season being linked to the top clubs.
Rejuvenated Kumasi King Faisal has interestingly found their trio of captain Mohammed Hamza, striker Kwadwo Poku and leathery midfielder Yahuza Abubakar linked to new league champions, Kumasi Asante Kotoko and dethroned champions, Accra Hearts of Oak.
Faisal's city-rivals, Asante Kotoko are reported to be preparing their bid for Hamza and Kwadwo Poku. Both players were on loan to Kotoko last season but joined King Faisal this season.
But King Faisal's Managing Director, George Amoako has dismissed such transfer speculations telling the Soccer Express 'that no player of King Faisal is moving'.
Amoako explained that 'if any player of Faisal moves then that player would be moving outside to play abroad'.
According to Amoako, King Faisal's development stage does not permit them the luxury to sell players who are gradually being developed for the future.
The Faisal MD, confident about his team potential in the coming years stated, "all players of King Faisal have a three-year contract with the club and that "no transfer talks have commenced for any of our players".
When the Soccer Express asked about the status of the duo of Hamza and Kwadwo Poku, Amoako confirmed that "they are all fully fledged players of King Faisal", dispelling misconceptions that both players are on loan to King Faisal from Real Tamale United and Corners Babies respectively.
The claims by the King Faisal GM seem to close all doors for any possible transfer swoop for their stars as Accra Hearts of Oak are also reported to have shown interest in national player, Abubakar Yahuza.
For now, the man who manages King Faisal says no to any transfer speculations and says it is rather his side which is in talks with other clubs to sign on a couple of players to complement the existing squad for next season.