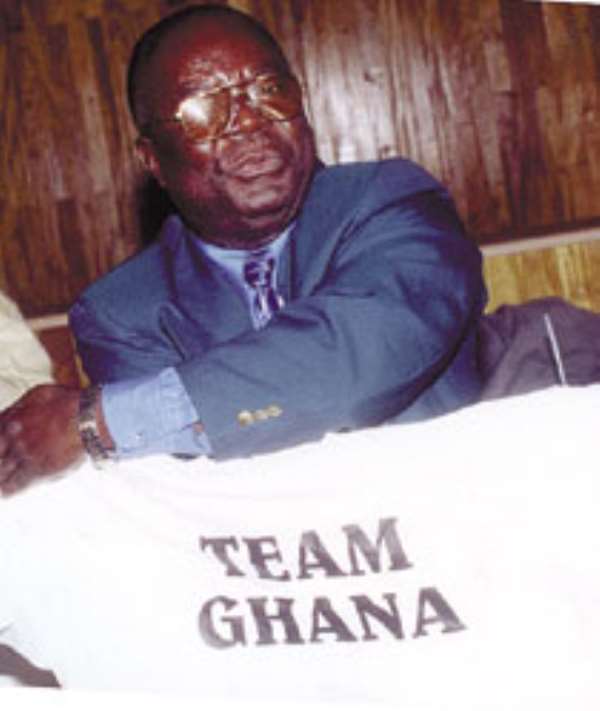 Over Twenty Senior And Management Staff Affected A restructuring blow, announced earlier by the Ministry of Education Youth and Sports, yesterday hit the senior core of the National Sports Council, dazing some employees and rendering them dumb when contacted for comments.
"It is too early in the day for comments; I am to assume my new office today and I need to study the situation before making comments," one managed to explain with a wry smile.
By yesterday's deadline, over 20 of the Council's senior staff and Management, most of them demoted and made to surrender their offices to subordinates, were to report at new designations, some well below their current ranks.
Those affected by the massive shake-up include Ag Chief Executive, Dr. E. Owusu-Ansah (pictured), the Ag Director of the Sports College, Winneba, Mr. Sammy Ashie, and the Head of Public Affairs, Mr. Charles Aryeh.
At the earlier announcement of the exercise last week, the move was explained as a strategic endeavour to get sports scientist and administrator, Dr Emmanuel Owusu-Ansah, from his acting role at the helm of the Council to the sports ministry.
With the extra leverage to earn at the ministry, it was envisaged, Dr Owusu-Ansah was expected to execute the 'Joe Aggrey Plan,' a blue print crafted by a team of experts, headed by the Deputy Youth and Sports minister, for Ghana's sports revival.
A ministry spokesman explained then that the choice and action had been informed by Dr. Owusu-Ansah's depth of knowledge, his technical and administrative expertise, as well as his impressive tenure as acting chief of the Sports Council.
Strangely, however, the transfer from boss of the National Sports Council to a director of Sports Development at the Ministry, constitutes a demotion, according to a Public Services Commission official.
The official further hinted of a potential conflict of roles between the newly created office at the ministry and that of the Chief Sports Development Officer already existing under the NSC structure. But with the shift effected yesterday, Mr. Albert Agbozo, Chief Administrative Officer of the Council is to act until further notice.
Mr Aryeh, a trained journalist and administrator, with no Physical Education background, is to assume office in Koforidua as the Eastern Regional Sports Development Officer, to perform a function meant for trained physical educationists. Furthermore, as Deputy Chief Administrative Officer and a management staff, Mr. Aryeh is literally swapping offices for one he held over 10 years ago.
Mr. Issaka Hamid, of the Greater Accra Regional Sports Association replaces Mr. Ayeh as head of Public Relations to function separately from the Marketing Department.
The change is similar to that of Mr. Ashie who was recalled from the regions to assume office as Chief Sports Development Officer at headquarters but earned the parallel job at the Sports College. Now he returns to headquarters as Deputy Chief Sports Development Officer, taking one step down.
The new acting director at the Sports College is Mr Dominic Asabia, who served as Regional Sports Development Officer for the Northern Region until he was posted to head office barely a month ago.
Mr G.B. Awuakye, from whom Mr. Ashie takes over as Deputy Sports Development Officer at head office, moves to Greater Accra as Regional Sports Development Officer. Ashanti Regional Sports Development Officer, Mr W.A. Karikari is to hand over to Mr. E.K. Edusei and then proceed on a two-year leave.