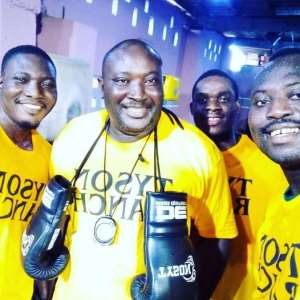 Assistant Trainer at the Charles Quartey Memorial Boxing Gym, Mr Prince Asiedu is optimistic that they can turn out more African and world boxing champions in the near future.
In an exclusive interview, Charles Quartey said the gym has many plans for the youth living in and around Timber Market and its environs.
He observed that most of the youth are very intelligent, brave and courageous, whose talents must be polished to become stars.
He disclosed that they currently have seven professionals including Wahala Oluwaseun, the current WBO Africa Super Featherweight Champion, Joseph Akai Nettey, the current Royal Boxing Organization Light Flyweight Champion, Michael Ansah, the National Lightweight Champion, 25 amateur boxers and several juvenile boxers plus two female boxers.
He expressed that they started building the gym slowly, some 12 years ago and today they pride themselves as one of the best boxing Gyms in Accra.
He thanked all those who have supported them including Streetwise Foundation and the management of the boxers.
He gave great thanks to the Almighty for his protection and guidance as well as the knowledge and wisdom that they get to handle the boxers as some of them are stubborn.
He appealed to corporate bodies to support the Gyms and boxing in general, both amateur and professional.
He also appealed to the National Sports Authority and Ministry of Youth and Sports to encourage boxing as it is the only sport that has produced real champions for Ghana.
"We have to upgrade ourselves with courses but it is expensive, so we want the NSA and corporate Ghana to support us so that we would know the current trends in the game," he said.