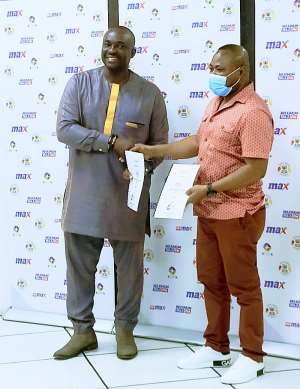 Mr Maxwell Takyi, CEO of IMax Media group and Mr Abraham Neequaye, President of the Ghana Boxing Authority (GBA) on Thursday signed a lucrative $1,700,000 agreement to stage a new 5 years professional boxing league in Ghana.
Mr Abraham Neequaye who has been in office for 155 days said it is time to create more wealth for boxers coaches and other stakeholders in the game.
After launching the website and vehicle, he said they are now ready to win more titles.
Already under his watch, Ghana has won four African titles and he believes boxing is the number one sport in Ghana as it has brought more glory in Ghana sports.
The grand finals of the professional league would be held on every Boxing Day, 26th December, every year.
He indicated that the GBA Professional Boxing League is to support boxing promoters and managers in creating more champions for Ghana.
"Winners will get cash and other packages," he assured.
An amount of $1,700,000 package between the Ghana Boxing Authority and IMax Media Group is the deal.
Mr Neequaye revealed that the GBA is going to establish an awards night to reward all stakeholders who excel and deserve to be honoured.
Alhaji Fadi Fattal, Commercial and Marketing Manager of IMax Media commended the new President who is giving Ghana Boxing a new face.
He announced IMax is officially registered as a boxing promotion outfit and they will provide seven fights every fortnight for 10 fortnights, every season.
"Boxing is a religion and let's make it work for Ghana," said Fattal.
Ghana Boxing will be in the limelight and be discussed daily on Max TV.
Mr Gideon Hanson Appiah, GBA Marketing Head, said boxing is moving to a higher level of in Ghana and all who take part will be rewarded.
Yaw Ampofo Ankrah head of sports at Max TV said history is being made.
Mr Eric Mensah Bonsu representing the Minister of Youth and Sports commended GBA and I Max Media.
He said boxing is very important and the youth need to be supported to excel and live better lives.
He hailed the Ghana Boxing Authority for their good organization.
The programme will involve 12 boxing Gyms and 40 boxers.
Technical Director of the National Sports Authority, Mr Kwame Amponfi Jr promised support from the National Sports Authority to Ghana Boxing.
Present at the ceremony were GBA executives, coaches, boxers, boxing supporters as well as the media.