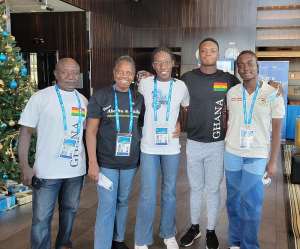 Three swimmers who are representing Ghana at the FINA World Swimming Championship in Abu Dhabi, UAE have performed marvellously well as they have dropped some seconds off their personal bests.
Nubia Adjei who did the backstroke for the team was first to start when she bettered her personal best in the 50m backstrokes. Her personal best in the backstroke 50m is 30.54s, but she did 30.09s and preparing to improve at the Commonwealth Games in Birmingham, UK.
18-year-old Papa Yaw Poku-Dwumoh also improved on his personal best in the 100m freestyle. His entry time for the 100m freestyle was 1'00.43s, but he dropped it to 57.68s.
Unilez Takyi the SWAG swimmer of the year 2021, also dropped some seconds off her entry time to better it with her hard efforts. Her entry time for the 50m freestyle was 27.49s, but she did 27.21s.
The three swimmers have indeed raised the flag of Ghana high. although they could not make it to the medal table,
Coach George Ansah believes they can do better in subsequent FINA and CANA competitions.
The leader of the delegation, Madam Delphina Quaye who is president of the Ghana Swimming Association is also delighted about their performances. Picture by Lynda Niamke.