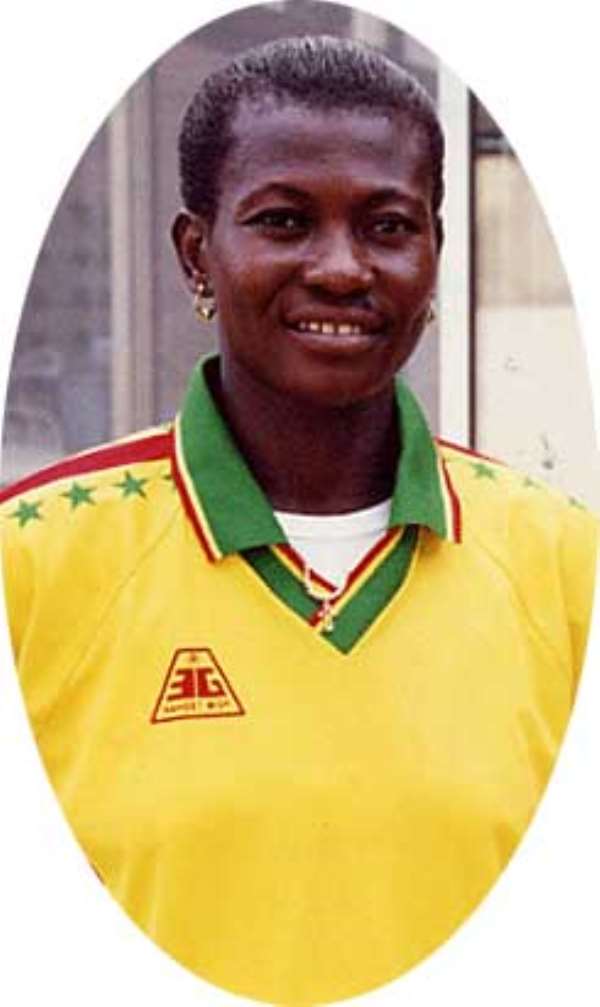 "Playing football is a waste of time." "Playing football makes your organs shrink."
These were the prejudices that Ghana captain Alberta Sackey had to contend with in her youth, as she grew up in the Ghanaian capital of Accra. Even Sackey's own mother disapproved of her daughter's ambitions. She didn't think football was a sport for women. She was also afraid that "I might grow big muscles", the 31-year-old told FIFAworldcup.com.
However, Sackey refused to be dissuaded by the prevailing attitudes against football in her country. With the support of her father, who was always proud of his daughter's sporting exploits, Sackey has succeeded against all odds. After a spell in the Ivory Coast, where she played volleyball for three years, she became homesick and returned to Ghana and to football. Today, the captain of the "Black Queens" is the reigning African Footballer of the Year and the undisputed figurehead of her team.
The award of African Women's Footballer of the Year, which she received at the beginning of April in Johannesburg, still excites her.
"The award was so important to me," she said. "I was delighted, and it was a great honour."
The Ghana team is currently in Portland preparing for the approaching FIFA Women's World Cup. Sackey is pleased with how training is progressing. The team are trying to put the finishing touches on things in the friendly matches, which have been spread over the Pacific Northwest. Sackey outlined the team's schedule in the run-up to the opening game against China on 21st September.
"If everything goes according to plan, we will play another two or three friendlies."
In recent weeks, she has voiced her disappointment with her team's preparations for the tournament. "I just said that we should have played more friendlies against other World Cup participants," she said.
Sackey however is actually high on her team's chances, "Our team is in good shape at the moment. We want to survive the group stage and progress. If we can manage to do that, then the other teams should not underestimate us, because anything is possible."
Sackey sees her team's main strength as their forward play when they are in possession. She believes their weakness is a lack of pace in comparison with other teams. She is reluctant to go into detail on the other teams in her group, but rates all three nations highly.
"Any team which has qualified is a good team. And everybody wants to be world champions," she said. She figures the favourites are teams such as USA, China and Nigeria.
Strong performances from both African teams at USA 2003 could have a positive effect on the development of women's football in Africa. The slow process needs to move forward, according to Sackey.
"In schools, we have athletics, table tennis and other sports," she explained. "We have to integrate football into the schools in the same way. Only then can women's football develop and talent be spotted and nurtured."
Sackey now attends university in the United States, playing football between Ghana matches for little-known Robert Morris College, just outside Chicago. Along with being a world-class athlete, she is also an accounting major, who has shown equal promise in her studies as on the football field.