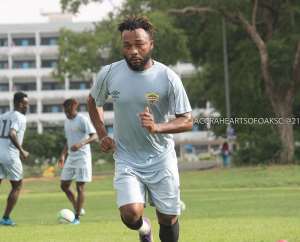 Accra Great Olympics have withdrawn their legal action against Hearts of Oak after receiving the balance due them from the transfer of their former skipper, Gladson Awako.
Mr Oloboi Commodore, CEO of Olympics, told the Daily Graphic yesterday that the club reached a gentleman's agreement with its city rivals for an out-of-court settlement, having earlier dragged Hearts to court to seek justice.
''It is true we've withdrawn the case from court because we have come home to settle it. What we wanted from court we have agreed to settle it at home," he said, explaining that it was both parties which decided to seek an amicable settlement out of court.
Mr Commodore also confirmed that since the case had been withdrawn, Hearts had honoured their side of the bargain by paying the remaining GH¢50,000 owed them out of the GH¢100,000 transfer fee, hence they no longer had any issue with Hearts.
''Hearts have actually paid the money, which means that Hearts did not owe Olympics again and that the player now belongs to Hearts," he emphasised.
Dr Nyaho Nyaho-Tamakloe, a board member of Hearts, also confirmed that Olympics had withdrawn the case from court because the Olympics CEO was unaware that Hearts had already paid the balance which was why he took the case to court.
Hearts and Olympics have been engaged in a tug-of-war over the rightful owner of the player whose transfer has generated so much controversy due to Hearts' default in payment of the full transfer fee by the October 2 deadline.
But after months of litigation between the two clubs, they have finally smoked the peace pipe to enable the player to feature for Hearts who have already registered him for the ongoing Premier League.