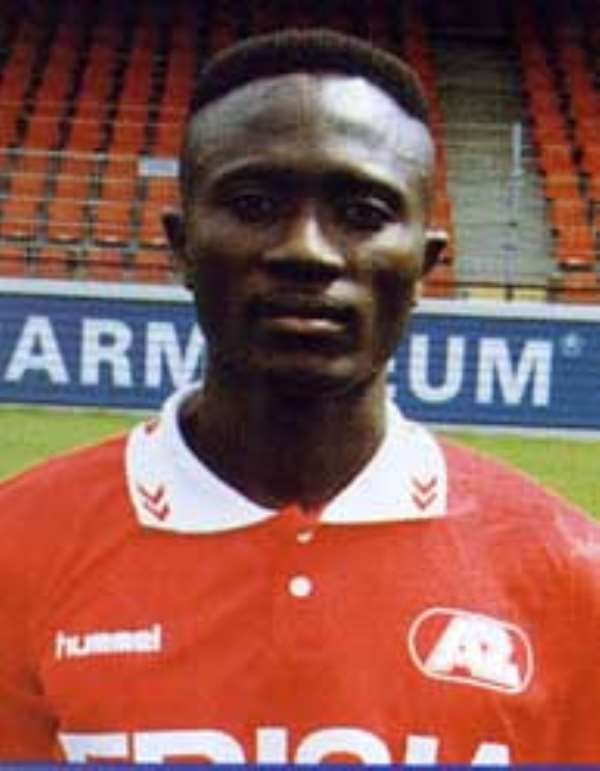 After several months of training with Asante Kotoko, former national defender, Frank Amankwaa was over the weekend registered by the Porcupine Warriors, the club that shot him into stardom in the early 90s. The diminutive defender who last played for King Faisal Football Club will be playing for the Porcupine Warriors for a season.
Frank Amankwaa's registration by Kotoko has been occasioned by the absence of a very good substitute for Aziz Ansah who has manned the Kotoko right full back position since joining the club some three years ago.
Although he is a well-known midfielder, Aziz Ansah was turned into a defender by the then Technical Director of the club, Ernst Middendorp, and he did not disappoint but justified the confidence reposed in him by the no nonsense German tactician.
Aziz Ansah has proved to be a useful right full back who combines aggression with speed and has always had his dribbling skills coming in handy anytime he encounters a wall in his bid to make inroads into the opponent's territory. The last time Aziz Ansah was ineligible to play in a game involving Kotoko, he was sorely missed-that was in the game against Okwawu United, which the Porcupine Warriors drew 1-1.
Although many are of the conviction that age is not on Amankwaa's side, the IMC believes he has shown enough evidence of what he has in store for the difficult-to-please Kotoko fans. It is believed that his overlapping qualities that earned him accolades in the early 90s have not deserted him, and he will prove his mettle.
Amankwaa whose latest return to the Kotoko fold is basically a re-enactment of how he joined Kotoko in his hey days expressed joy at the news that he has finally been registered by Kotoko, promising to give of his best. Before joining Kotoko in the early 90s, Amankwaa took a detour from Kumapim Stars to impressive Cornerstones for a year.