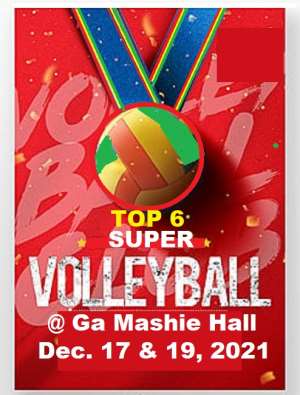 The Super Volleyball Indoor Competition involving the top clubs in Accra, the capital city of Ghana comes up from December 17 to 19 at the Ga Mashie Sports Hall inside the Trust Sports Emporium.
According to the organizers, the competition is to raise awareness as Volleyball being the most popular sport in Ghana after football, boxing and athletics.
Also as Ghana prepares to host the 13th African Games, lovers of Volleyball want to see the nation win laurels in the game.
They also want to create a platform for corporate Ghana to invest in the game, players and officials.
The top six clubs invited to participate are Ghana Air Force, Ghana Police, Ghana Army, El Wak Wings, Ghana Prisons and Tema City.
Mr Mohammed Aputeog, founder of the Super Volleyball event said many people love the game and want to watch the nation's best stars in the indoor performance, to open opportunities for young players.
Some Volleyball fans and enthusiasts said such innovative ideas and investments in Ghana Volleyball can raise the standard and interest in the game.
"We have to develop all sports very well including Indoor Volleyball in Ghana. It is very interesting and significant" said top sports journalist Sammy Heywood Okine.
Meanwhile, African Sports Media (Ghana) and other media houses in Accra have declared full support for the Super Volleyball Competition.