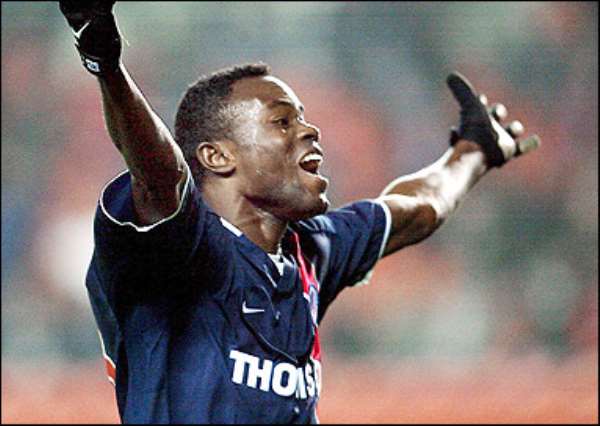 English premier league side, Everton, has loaned Alex Nyarko to Shenyan club in China. Kwame "Abedi's brother" Ayew plays for this club Nyarko eyes China move 29 July 2003 -- Ghana's Alex Nyarko could move to China just two weeks after returning to his English Premiership club Everton. Nyarko has spent the last two seasons on loan at Monaco and Paris St Germain, but was forced to return to Everton after they failed to complete permanent deals.
The temperamental midfielder refused to play for Everton after an April 2001 incident when a fan ran on to the pitch to remonstrate with him during a game against Arsenal.
The supporter, frustrated with what he perceived to be a lack of effort from the player, tried to swap shirts with him, saying he could do better.
After the incident, Nyarko vowed never to play for Everton again, saying his year at the club was the worst time of his life.
However, he suggested he was ready to make a fresh start at Goodison Park, but it is clear he has no future under manager David Moyes.
Everton's head of corporate affairs and public relations Ian Ross said: "We have given Alex Nyarko permission to speak to a couple of clubs in China.
"He has flown out to the Far East to meet with representatives of the clubs and we expect to hear within two or three days whether or not he will be joining them."