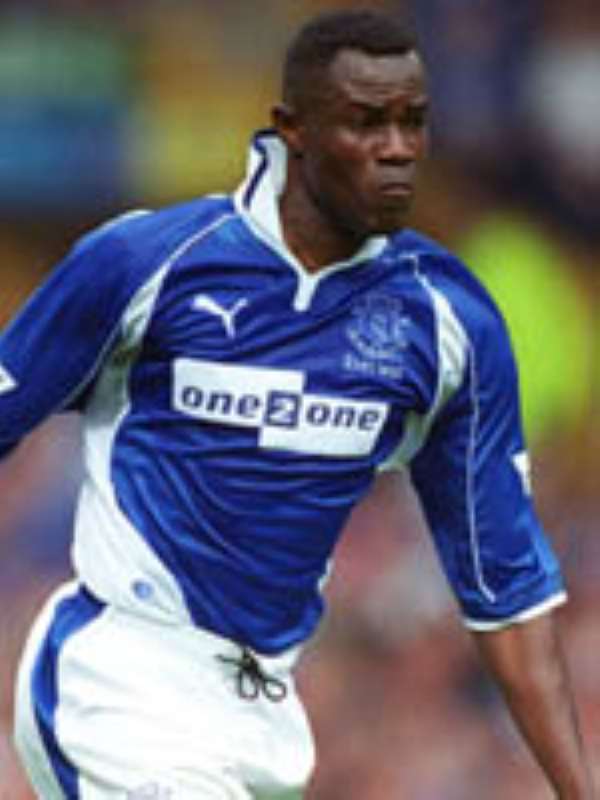 Everton outcast Alex Nyarko returned to the club's training ground yesterday insisting he wants to make amends for his infamous walkout on the club two years ago.
And the Ghanaian midfielder claims it is God's will that has brought him back to Goodison Park.
He also wants to apologise to the fan who ran onto the pitch at Arsenal and angrily asked to swap shirts in the match that ended with the 30 year-old refusing to play for the Toffees again.
Everton's stars - apart from their international players - resumed training today, but Nyarko's return grabbed all the attention.
Everton fan Stephen Price was banned from every ground in the country for three years following his rush onto the Highbury turf to confront Nyarko during the hammering by the Gunners.
Nyarko has been farmed out on loan to Monaco and Paris St Germain for the past two seasons, with Everton aiming to sell him and recoup some of the 4.5m Walter Smith paid Lens for the player three years ago.
But, in the current flat transfer market, no bidders have been found and Nyarko - who fell out with the Paris club last season as well - has had to return to Everton to continue his career as he is still under contract.
In an interview with www.evertonfc.com, the player, who still has two years of his Everton contract to run, insisted: "I am a footballer, an entertainer and people come from their homes to watch the game, to win and be happy. I have to come back and try to make people happy."
Everton had hoped the difficult situation caused by Nyarko's return would not arise, but now the club seem to be looking to make the best of the problem. It remains to be seen whether Nyarko is accepted back by the Goodison faithful, who were furious with his attitude, one of the reasons that prompted fan Price to run, bare-chested onto the Highbury pitch during the humiliating 4-1 defeat. Nyarko speculated: "Maybe I was doing certain things that weren't pleasing God. Maybe that was the reason, but I thank God that I am back and now I have to start my life again.
"It was the choice of God. What happened two years ago was maybe something that had to happen."
He added: "I don't believe it has been two years. I was in pain when I went away to Monaco and Paris, and now I am back home.
"So many things have happened in these two years and it has been hard, but coming back to Everton is a good decision for me to take.
"After I left there was the season with Monaco and then I had talks with David Moyes about starting with the group. I was not ready and I thought maybe Monaco and Paris would come in for the contact."
Neither French club were sufficiently impressed to offer a permanent deal, though, and that has restricted Blues boss Moyes' transfer options with no money from a Nyarko transfer to spend.
Everton have been left with no alternative but to try to integrate Nyarko back into their squad.