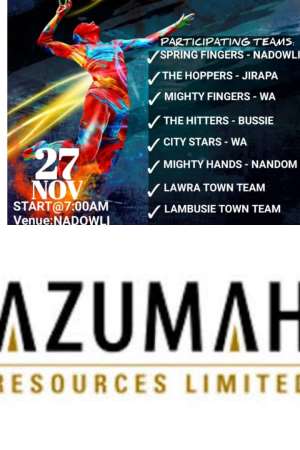 Today marks a special day for the youth of Upper West especially the youth of Nadowli as Azumah Resources has put together a maiden volleyball galla involving seven teams selected across the entire Region.
The galla commenced this morning after a short brief by the Public Relationship Officer of Azumah Resources Limited, a prospecting mining company based in Nadowli. According to the PRO, Solomon Dery, the company wants to use sports to foster unity among the youth and in the Upper West Region, Particularly the youth in Nadowli-Kaleo. He added that, it is an avenue to unearth hidden talents and project such to the outside world.
He further asserted that the company will be relying on young energetic youth when it finally starts operation and will from time to time engage them on such activities to keep them fit and healthy.
Hundreds of youth are currently participating in what appears to be a festival. The euphoria is that which has never happened in Nadowli in recent times. It is obvious that the company has revived the enthusiasm for sports among the youth in Nadowli Town
The participating teams are;
1. Spring fingers from Nadowli
2. Hitters from Bussie
3. Mighty fingers from Wa
4. City stars from wa
5. Hoppers from Jirapa
6. Lawra town team
7. Lambussie town team
The opening match was played between Hitters of Bussie and Mighty fingers from Wa. Mighty fingers beat Hitters of Bussie two(2) straight. Other matchers are ongoing but finals is mexpected to be played by 5pm.