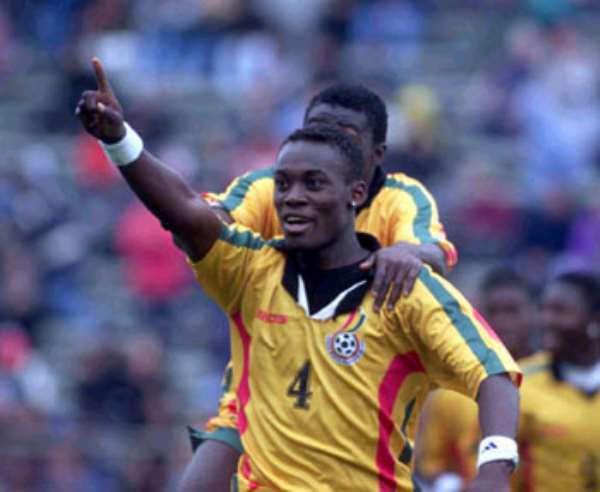 If you are to believe everything the media - particularly the Western ones - say, Michael Essien would pass for one of the hottest football talents in Europe. A fine season in France with Bastia during which he played almost every game for the Corsican club and scored six goals from his attacking midfield position, has earned Essien rave reviews and the attention of some of Europe's best clubs. Some have even nicknamed him the new Viera, a highly complimentary remark in comparison to the Arsenal captain for his powerful build, great tackling in midfield and slick passing. And almost everyone who has seen him in the French league agrees the boy is hot and perhaps the next biggest thing to emerge out of Ghana football. But we've heard all this before. For a nation obsessed with the need for a new star performer on football's big stage of Europe, every young player who has showed some promise has had to carry the next biggest thing tag. Nii Odartey Lamptey was the first. A professional in Belgium at 15 and Pele's own chosen successor as football's next best thing, he fumbled badly after great times in Holland and afterwards, pedestrian seasons by his own standards in Portugal, China, Germany and Argentina. Dan Addo suffered a similar fate. So have many who, after impressing with the country's junior teams, failed to live up to the hype and expectation. But there have been successes. Samuel Osei Kuffuor was maybe the least talented of that 1991 squad that won the world U-17 Cup but he has gradually emerged as the most successful of that generation with Bayern Munich for whom he has been outstanding throughout their successful years. Essien could use the Bayern star's rise to fame as a textbook example. With the limited talent he was blessed with, Kuffuor made hard work and an unflinching commitment to the job his key word and would retire one day in the sound knowledge that he would always be remembered as one of Ghana's most successful exports to Europe. There are many knowledgeable judges within the game who believe Essien, a recent graduate of Saint Augustine's College, can match his countryman in greatness and success or even go a step better than him. Blessed with a wonderful physique, fine pace and good ball handling skills, Essien has within a short time blossomed into one of the game's finest all-round midfielders. That tells in the number of clubs who want to take a closer look at him. Liverpool leads the pack with a 7million pound offer as reported by Sky Sports.
The Reds, for whom success has been very difficult to come by, are reportedly ready, according to the Daily Mirror of England prepared to pay as much as 25,000 pounds a week to lure Essien away to Anfield.
French clubs Olympique Lyon and Marseille are also interested in a player who, until recently, was still strutting his stuff on the local scene for Liberty Professionals.
The moment he stepped on the field in New Zealand for Ghana at the world U-17 Cup however, it became clear he wasn't going to remain in Accra for long.
Bastia were the first to see the light and, after a string of brilliant displays for them, he has become a mainstay of the team.
All the attention now flatters, him but Essien is keeping his cool and refusing to allow that to get to his head.
He once told planetfootball.com that he would love to stay in France primarily because that is where he believes he would get to play on a week in, week out basis even though he admits the prospect of playing in England is attractive.
Wherever he elects to go, admirers of Essien, myself included, would hope he does not end up like another early promise who never fulfilled it.