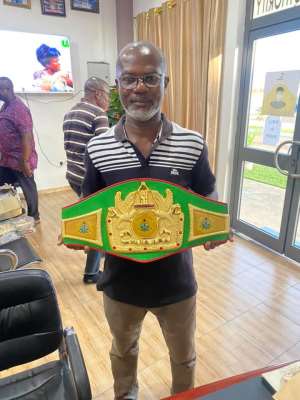 The Ghana Boxing Authority (GBA) has taken delivery of new National Championship Title Belts.
According to 2nd Vice President, Roger Barnor, the new belts are in and winners will have them for keeps as they are trying to secure more belts for all the weight divisions.
"The wait is over. Ghana's new national championship belt lands. Win this beautiful belt and keep it for good" he said.
It would be recalled ace promoter Alex Ntiamoah Boakye of Box Office Promotions has a confrontation over the issue on the National Title Belts, and he was asked to pay a fine, however, the availability of the new belts will make boxing in Ghana sweet again, and boxers will be happy to be decorated with them.
Currently, there are many National Titleholders without belts, and it would be nice to see the GBA decorate them with what they fought hard for.
For example, in recent times, Holy Dorgbetor won the National Featherweight Champion, while Musah Rahman Lawson is also the new National Super Welterweight Champion.