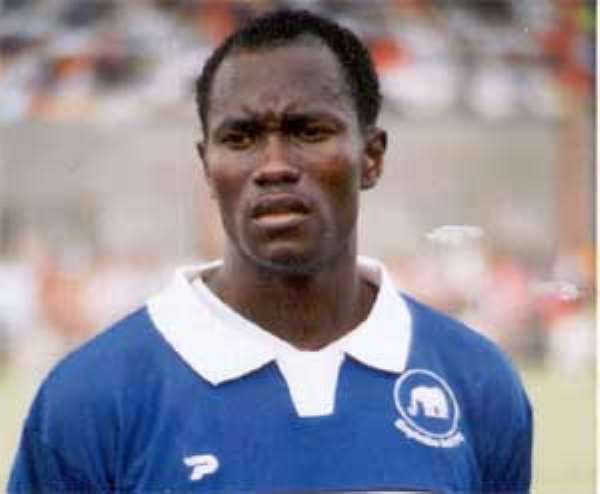 Joetex Frimpong, a budding Ghanaian soccer star, who was recently crowned goal king with 16 goals in the Nigerian National professional Premier League is beseeching the handlers of the Black Stars to give him the opportunity to prove his worth.
He said it was sad that players who ply their trade in the sub-region were not monitored and offered the chance to compete with their counterparts from Europe for a place in the various national teams.
An S.O.S message sent through a Ghanaian Businessman, Frank Obimpeh, the player expressed optimism of a good performance when given the chance, which he believes, could serve as an eye opener to the handlers and possibly urge them to cast their net wider.
To authentic his story, the agent presented the February 1, 2003, edition of the "Sports Souvenir", the biggest selling sports paper in Lagos, which feature prominently the Ghanaian and his new move to League Champions Enyimba of Aba in the Abia State.
Frimpong was transferred from El-Kanemi after his former club was relegated to the Professional Division One League even though he netting 16 goals.
Officials of his new club Enyimba, which represents Nigeria in this year's CAF Champions' League, the second in succession, have expressed optimism that the inclusion of the Ghanaian in the squad, would improve the team's performance in the continental competition.
When given the chance, Frimpong would become the third top Ghanaian player from Nigeria after goalkeeper Edward Ansah and striker Arthur Moses to have don the national jersey.