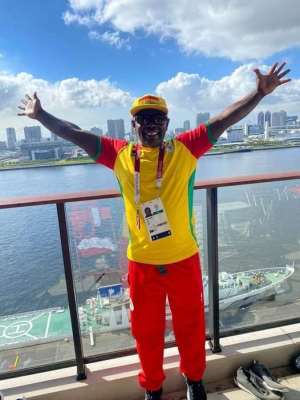 Four times Olympian, Dr Ofori Asare is in top contention for the Sports Writers Association of Ghana (SWAG) Coach of the year 2021, after leading Ghana to win her first Olympic Games medal at Tokyo in almost 30 years.
He has also been nominated for Dedication and Valor Award which he won last year, but he wants the Coach of the year which he stands tall to win, following his global feat.
Coach Dr Asare is already targeting bigger glories at the 2022 Commonwealth Games in Birmingham, where he wants to add on to his achievements.
He is also a five-time Commonwealth Games participant, who has seconded different boxers to winning medals, but he says he is still hungry for more success.
Some of his achievements at the Commonwealth Games are: 2018 Jessie Lartey – Bronze, 2014 Wahid Omar – Bronze, 2006 - Awesone Yekini-Bronze, 1998- Raymond Narh – Gold, 1998- James Tony – Bronze, 1998-Aloryi Moyoyo-Bronze, 1998-Charles Adamu-Bronze.
He was a Baton bearer when the Queen's Baton came to Ghana and he considers it as a great privileged to take part in this important traditional curtain-raiser of the 2022 Commonwealth Games in Birmingham.
Coach Ofori Asare is the head coach of the National Boxing team, the Black Bombers, he is an AIBA Certified Instructor and founder of the Wisdom Boxing Club (WBC).