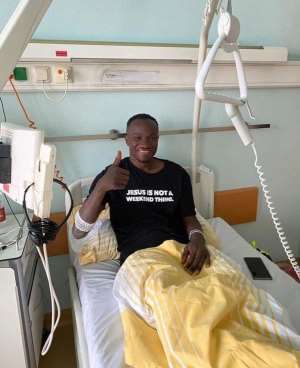 Raphael Dwamena
Ghana striker, Raphael Dwamena, is currently in stable condition after collapsing during a cup game on Wednesday night.
The BW Linz striker was rushed to the hospital during a game against Hartberg on Wednesday after the player fell on the turf in the third round of the Austrian Cup and the game was subsequently called off.
The Sporting Director of the club, Tino Wawra, has also revealed that Dwamena's life was never in danger and that he could be discharged from the hospital soon.
"The doctor's testimony was that his life was never in acute danger because of his defibrillator. His "defi" intervened a total of four times," he said, as quoted by 3news.
"Raphael still has some examinations ahead of him today and can either go home this evening or tomorrow evening – there is no longer any danger if he avoids exertion."
Dwamena made his long-awaited return to the football pitch, featuring for BW Linz in their 1-0 win against Wacker in the Austrian second-tier League earlier in October after a year-long absence.
Dwamena's troubling medical history
On 21 August 2017, FC Zürich agreed a fee with Premier League club Brighton & Hove Albion for the transfer of Dwamena.
He was set to join Brighton subject to passing a medical, obtaining a work permit and international clearance, however, the deal fell through after Dwamena failed his medical due to a heart condition and he had a heart monitor fixed.
In October 2019, after new examinations were carried on his heart condition, the doctors recommended his immediate withdrawal and retirement from football.
He, however, continued after having implemented an implantable cardioverter-defibrillator (ICD) in January 2020