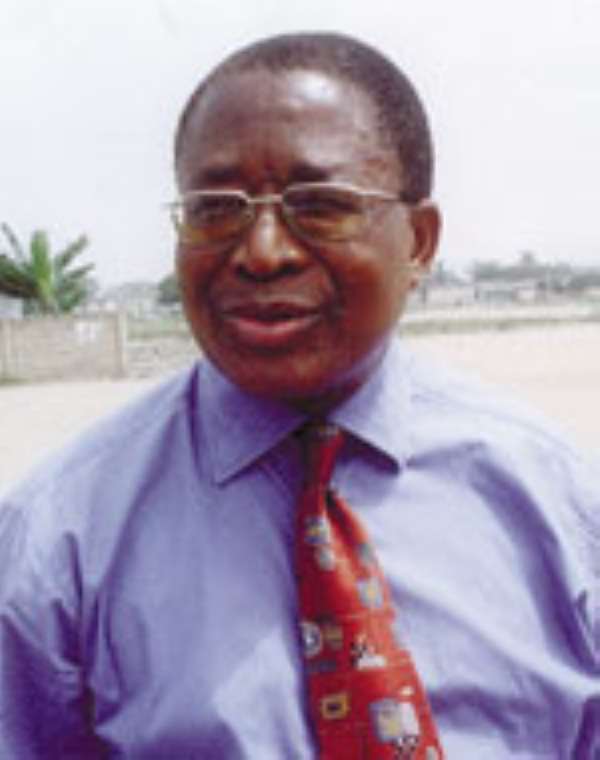 Mr. Edward Osei-Kwaku, Minister of Youth and Sports on Wednesday presented a cheque for 100 million cedis to the Central Regional Coordinating Council (CRCC) as seed money for the construction of a Youth Leadership Training Institute at Ajumako.
Making the presentation to Mr Isaac Edumadzi, the Regional Minister at the Kofi Annan Technical and Vocational Centre at Ajumako, Mr Osei-Kwaku said the money was in fulfilment of his determination to ensure that every region gets a Youth Leadership Training Institute within the shortest possible time.
He said he was propelled by that determination to raise the money from the ministry's own resources because such ventures were not captured in the 2002 budgetary allocation.
The minister said his prompt response to the Central Region stems from the commitment of the people and a pledge from the regional minister to supplement the ministry's effort by raising another 100 million cedis from the District Assemblies to support the project.
Mr Osei-Kwaku said the construction of Youth Leadership Training Centres all over the country would serve "as the government's impetus to assist in the accelerated development of the country as graduates of such institutes would be assisted to form cooperative workshops to tackle the technical and vocational demands of the country."
Showing the regional minister drawings for the project, the minister said structures which, house existing youth institutes are far from the ideal as most of them are in abandoned structures and tasked the CRCC to ensure that high quality work is performed at the seven acre site.
He assured citizens from the Northern and Western Regions, who are yet to have Youth Institutes that their concerns would soon be taken care of, adding that an uncompleted District Assembly building at Nalerigu would be developed with a 500 million cedis allocation from the Ministry of Finance for the North, while the Wassa Akropong Traditional Council in the Western Region has released seven acres of land for that purpose.
Mr. Edumadzi promised the Minister that work would be completed on schedule "and by September next year, the first batch of students would be admitted."
He said they would prioritise agriculture, masonry, plumbing, dressmaking and carpentry in the beginning and add other disciplines in due course.
The regional minister said the institute would accommodate those who could not further their education in the formal sector and groom them to excel in vocations and crafts.
Mr Kenneth Obimpong, Ajumako District Chief Executive assured the minister that he would mobilise the people to undertake communal labour to construct the centre in order to save cost and maximise returns.
The structures to be built include staff bungalows, an assembly hall, equipment room, a store, a secretariat, workshops for the various disciplines and a computer laboratory.