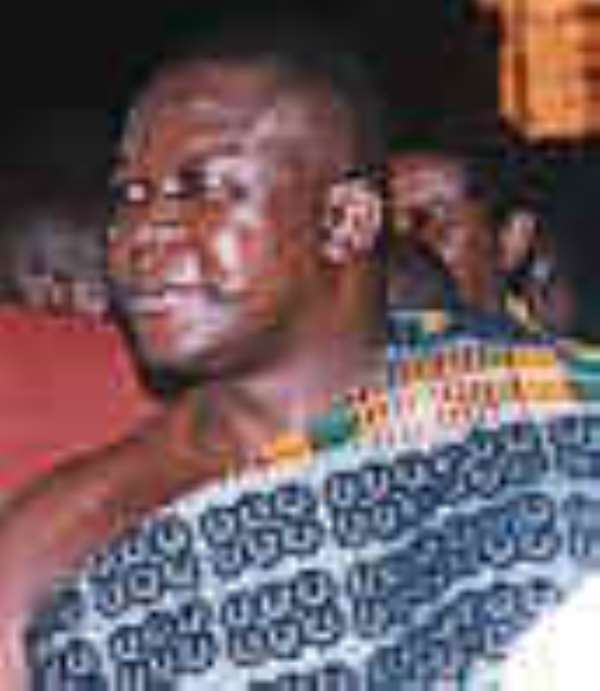 ASANTEHENE Otumfuo Osei Tutu II, yesterday stunned traditionalists when he joined the Queens' Golden Jubilee Baton Relay in Kumasi.
Traditionally chiefs are not seen to be running but Asantehene did a 10-metre dash in the relay after collecting the baton from the Deputy British High Commissioner Mr Robin Gweynn at the forecourt of the Manhyia Palace. Eager to participate in the event, the Asantehene could not wait for the starter's whistle to go before he started the relay. When he got to the end of the 10-metre limit and handed over the baton to Mr S. K. Boafo, Ashanti Regional Minister he continued to run to demonstrate his athletic skills.
Mr Boafo later handed over the relay baton to Mr Kofi (Ghana) Juma, Kumasi Metropolitan Chief Executive who passed it on to the Mr Agyepong Karikari, Regional Sports Development Officer, Ashanti.
The relay baton then passed on to members of six keep fit clubs and of the physically challenged for the journey from the Manhyia Palace to the Kumasi Sports Stadium. It went through the Kejetia roundabout, Adum to the Roman Hill roundabout, through Asafo where kids from the Queen Elizabeth Day Nursery took part by passing it from one kid to the other through to the Amakom Traffic Light to the stadium.
There was a one-lap 400 metre run round the stadium oval by participants. Students from selected schools also did the 400x100 relay in the both boys and girls division after Mr George Lutterodt, the President of the Ghana Athletic Association handed the baton to the President of the Ghana Olympics Committee, Mr B. T. Baba. The baton arrived in Kumasi on Sunday and the Deputy British High Commissioner presented it to the Asantehene at his private residence in the presence of members of the Ghana Olympic Committee and Ghana Athletic Association members and some chiefs. In a brief address Asantehene expressed gratitude for being involved in the event. He said the event should help bring unity among all countries in the Commonwealth. He called for unity and spirit of fraternity among all Commonwealth countries and hope there would be peace, peace and peace in the fraternity.