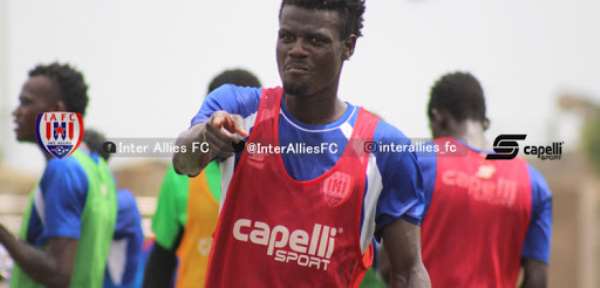 Inter Allies FC defender Hashmin Musah. Photo credit/Inter Allies FC
Inter Allies FC defender, Hashmin Musah has disclosed that he intentionally scored two own goals in the team's heavy 7-0 defeat to Ashanti Gold SC on Sunday afternoon.
According to him, he was informed of a bet by the Miners to beat his outfit 5-1. Unwilling to support betting in the sport, the defender says he decided to score two own goals to spoil the plans of the opponent.
"I heard it in our hotel that there was a correct scoreline of 5 goals to 1 against my club inter allies. I decided to spoil that bet because I don't condone betting," defender Hashmin Musah told Kumasi FM in an interview on Monday.
According to the Inter Allies FC defender, he was commended by officials of his club after the game.
"After the game, my technical team commended me for spoiling the bet they had staked. I promised my coach that if he allows me to play from the bench I will spoil the bet and after the game my team congratulated me," he added.
Watch the two own goals below: