The Confederation of African Football (Caf) elections are supposed to take place on 12 March but expectation that the next president could be determined over the next 72 hours increased as two candidates pulled out of the race late on Friday.
Augustin Senghor and Jacques Anouma were among the four candidates who met in Morocco last weekend and who are gathering again in Mauritania as the country hosts Saturday's African Under-20 Championship final.
Last weekend, talks took place proposing South African billionaire Patrice Motsepe to take the top job with rival candidates Senghor, Ahmed Yahya (Mauritania) and Anouma (Ivory Coast) assuming two vice-presidential roles and a special advisor role respectively.
On Friday, Senegalese FA president Senghor issued the following statement.
"We have decided to accept the proposal submitted to us by Fifa, Morocco and Egypt in the superior interest of the unity of African football," he stated.
"The withdrawal of my candidacy for the presidency of Caf for the benefit of another candidate will not be shared by all for various reasons, but I think it's the right decision."
"Achieving the objective of a strong, united, more efficient and more attractive Caf is worth all the sacrifices, even that of renouncing legitimate personal ambitions."
Anouma appeared on Ivorian television shortly after Senghor's statement to advise that he would also be stepping aside.
"I have decided to withdraw my candidacy," said the 69-year-old. "By achieving this sacred union of the best African wishes around Caf, with a common program, we will be able to contribute together to its recovery.
"I will put my unique experience of continental and global football at the service of the necessary reconstruction of African football."
The Ivorian, who is set to arrive in Mauritania on Saturday, ran his country's football federation between 2002 and 2011 and was a member of Fifa's Executive Committee, now the Fifa Council, between 2007 and 2015.
Yahya's communications advisor Jemal Sevir had earlier told BBC Sport Africa that the talks, which have prompted plenty of speculation in the media, will continue in the Mauritanian capital Nouakchott this weekend.
"I don't think the core deal is about the [presidential] position or the vice-presidency but what I know is that the deal concerns a joint deal - a common vision and project - for Africa," said Sevir.
"African football is in a difficult situation, a difficult financial situation and the image of African football today is not good. So the discussion that happened in Rabat and that will continue in Nouakchott is the candidates to work hand-in-hand together for the future of African football."
Motsepe, whose business acumen means he is worth over two billion dollars, owns South African club Mamelodi Sundowns, who he guided to African Champions League success in 2016.
The 59-year-old, who has said he is keen to build partnerships and sponsorship within the private sector to boost Caf, outlined his ten-point manifesto in Johannesburg last week.
He is the front-runner for the post but the possible return of current Caf president Ahmad to the elections could thwart any deal, should one be decided this weekend.
BBC Sport Africa understands that the Court of Arbitration for Sport, where the 61-year-old from Madagascar is appealing his five-year ban by Fifa, will deliver its verdict on Monday.
Ahmad will need to entirely overturn his sanction to run for a second term because a reduced sentence, which some consider possible, would still prevent him for clearing the eligibility test required for the role, which comes with an automatic vice-presidential post at Fifa.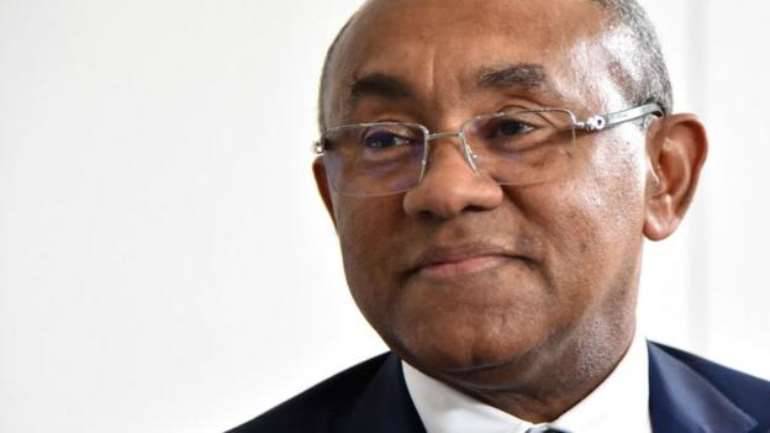 Ahmad is set to hear the verdict of his appeal against his five-year ban on Monday, BBC Sport Africa understands
The governing body's role in the ongoing Caf elections is under scrutiny after two employees of Fifa, whose president Gianni Infantino is expected in Nouakchott this weekend, were seen talking to the delegates in Rabat's Sofitel Hotel last week.
Veron Mosengo-Omba, an old friend of Fifa President Gianni Infantino, is Fifa's Director of Associations while Mathias Grafstrom is the organisation's Deputy Secretary-General.
The role of Fifa, which last year ended an unprecedented six-month partnership with Caf in a bid to improve the latter's governance, in the elections is attracting heated debate in African football circles.
The pair's presence has attracted accusations of interference by the global body, whose role was mentioned in Senghor's statement, in the elections.
The BBC asked Fifa for comment on Friday about why Mosengo-Omba and Grafstrom were in Rabat but has yet to hear back.
"I've been told by sources that they were in Rabat but I cannot confirm that they are part of the stakeholders in this agreement," added Sevir.
Prior to the emergence of the talks hosted by the Moroccan FA in Rabat, the presidential elections had been expected to be the most fiercely-contested in many years.
The Moroccan capital will host the candidates once more on Friday 12 March, whereupon the victor will begin a four-year term in charge of an organisation whose governance and finances have been heavily questioned in recent years.