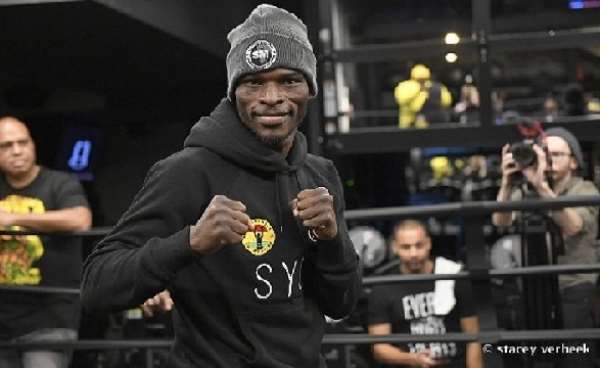 Former International Boxing Federation (IBF) lightweight titlist, Richard Commey, could return to the ring in June, four months after his explosive sixth-round knockout of Jackson Marinez at the MGM Grand in Las Vegas.
According to his manager, Michael Amoo-Bediako of Streetwise Management, the 33-year-old fighter could possibly return in June with so many options, including a possible world title fight, to choose from.
Nevertheless, Amoo-Bediako confirmed that Commey was likely to fight an eliminator for the IBF title which he lost to Teofimo Lopez in December 2019.
The Ghanaian fighter could be picked to challenge any of the world lightweight champions with the likes of unified champion Teofimo Lopez and World Boxing Council (WBC) titlist Devin Haney.
Commey lost his IBF belt to Lopez when the American stopped him in two rounds in December 2019. The American went on to unify the division by snatching Vasyl Lomachenko's World Boxing Organisation (WBO) and World Boxing Association (WBA) titles.
However, it is unclear whether Lopez will be ready to fight Commey now, especially when he is bent on dealing with his IBF mandatory fight with George Kambosos.
In an interview with the Graphic Sports, Mr Amoo-Bediako said Commey -- who made a successful comeback against Marinex on February 13 after a year's absence in the ring -- will be ready to face any opponent at 135 pounds in June.
"Richard Commey is in line to possibly return in June," said the Chief Executive Officer of Streetwise Management.
"He is not afraid to face anyone in the lightweight division. I believe he will be in good shape to face any of the champions when the time comes."
Commey is on a mission to become a two-time world champion and is looking forward to an immediate world title shot to achieve that.
Meanwhile, American promoter Lou DiBella believed Commey's performance against Marinex made him a credible opponent for the world title holders, but maintained the former IBF would provide Lomachenko a stiffer opposition tha he would against Lopez in a rematch.
DiBella, who promotes Commey, said the Ghanaian would be a dangerous foe for an older former lightweight champion who was looking for an opponent.
"I always thought that Teofimo Lopez was a worse matchup for Commey than Lomachenko would be," DiBella told BoxingScene.com.
"I think Commey – a long, very aggressive guy with one-punch power, who's bigger than Lomachenko – is a danger to Lomachenko. So, if you wanna make a real fight for Lomachenko, and it's not gonna be Teofimo, put him in with Commey. That's also a terrific fight," he said.