Awinongya Expresses Gratitude To Asamoah Gyan Foundation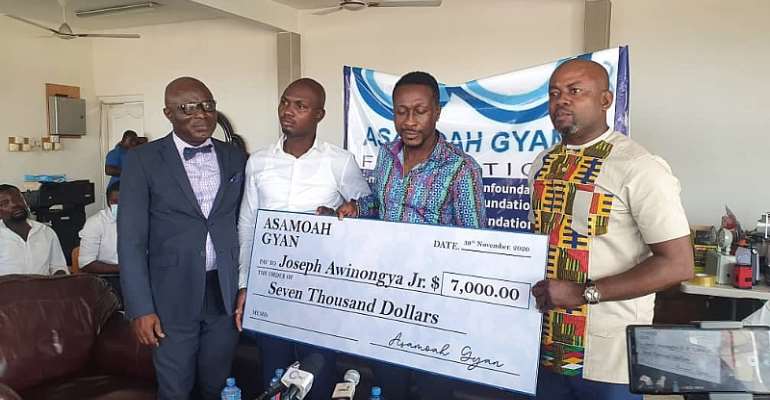 Joseph Awinongya Sr. has thanked the Asamoah Gyan Foundation for the donation of $7,000 to his son Joseph Awinongya Jr, towards his preparations for the USA National Championship and future boxing programmes.
He also commended the media who turned up to cover the event.
According to Awinongya there are other Ghanaians like Mr Isaac Tetteh aka TT Brothers and Alhaji Inusah who are backing the project.
He said the Asamoah Gyan Foundation office in the USA has begun operations, and they ready to support Ghanaians in the USA as well as Americans who want to do business in Ghana.
According to Sammy Anim Addo, president of the Asamoah Gyan Foundation, their vision is to stimulate action for change among the vulnerable and needy members of marginalised society.
"We work with such people empowering them with the dignity that having freedom provides. Through this, we help them achieve higher social, economic and intellectual status thus improving their quality of life" he said.
The vision to make AGF the preferred charitable organization identified by national organizations, the donor community, and multinational organizations to facilitate resource mobilisation to boost socio-economic development in underserved communities and districts" With our Vision in mind we work to identify problems confronting communities in Ghana and find short term, medium-term and long term solutions to them. We recognize the roles played by the government of Ghana and its development partners to put in place new infrastructure while improving on the existing ones to enhance the total wellbeing of the people by providing sustainable growth and development. It is for these and other factors that we augment the effort of government and organization.
The mission of the Foundation is to:
I. Mobilize resources to support the provision of potable drinking water and enhance sanitation for rural communities.
II. Enhance and support women in agriculture.
III. Enhance the promotion of girl-child education.
However, the Foundation has undertaken projects in the following areas Education.
1. Paid School Fees for 11 selected SHS students to university and two students tuition fees for MBA.
2. Donation of computers to a vulnerable school in remote villages Ahantanan and Asuboa,
Potable water
1. Construction of a water system for Wenchi township in the Brong Ahafo
Region of Ghana
2. Construction of mechanized borehole for St. Francis Teacher Training School in Hohoe in the Volta Region of Ghana.
1. Donated Hospital equipment to the Women and Children's wards of Korle bu, Mamprobi and Ridge hospitals, pays surgery bills for patience.
2. Renovation and donation to th Children's hospital
3. Cash Price donation to the heart centre Asamoah Gyan donated a cash amount of $10,000 to the Cardiothoracic Centre of the Korle-Bu Teaching Hospital in his capacity as the President of the Asamoah Gyan Foundation,
4. Mass Registrations of the poor and vulnerable onto the National Health Insurance scheme
Submitted proposal to access the Feed the Future Project under the USAID Global
Development Alliance GDA with ap. No: M/Oaa/Gro/Egas-11-002011 through ACDIVOCA
The Foundation organised an event for SSSCE Schools is Greater Accra dubbed
"Sports and Music jamboree" at the athletics oval in Legon University 16th&17th February, 2012, which was participated by 22 schools comprising WASS, Ebenezer SHS, PRESEC, Accra Girls, Accra High etc. The Technical Committee identified five (5) talented students who will receive scholarships from the Foundation.
Baby Jet U16 African tournament for unearthing football talents - where 3 players had the opportunity for trials in Europe- Best player played in All African games and plays for Kotoko
The GHANA PROTECT the GOAL CAMPAIGN is the Ghana Chapter of the "Protect the Goal" initiative, a brand new slogan, in the framework of UNAIDS' sport for global advocacy. Asamoah Gyan PLEDGED as the Captain of Ghana Black Stars, together with H.E. President John Mahama of Ghana and has since availed himself and image as a tool to champion campaign.
Mr Asamoah Gyan was invited by the President of Malawi His Excellency Peter Mutharika in Lilongwe to commemorate the signing of the Protect the Goal Campaign on the 27th of August to September 2nd 2014 as a guest of Honour.
Social Interventions – Ghana Blind Association – Suhum Chapter
1. Donation of white walking sticks, talking watches, googles and food items, registrations of the group onto the National Health insurance scheme
2. Cash Donations to the National Women's team
3. Relief items and a cash donation to the infamous June 3rd flood and fire victims in Accra in 2015.
4. Construction of an ultra-modern Astro soccer centre for Accra Academy school
Asamoah Gyan has was sworn in as the Goodwill Ambassador for United Nations Youth Association of Ghana 12vMarch 2020.
Asamoah Gyan has donated items worth over thousands of Ghana Cedis to the Dzorwulu Special School in Accra.
ASAMOAH GYAN BRIEF PROFILE-
Asamoah Gyan was born on the born 22 November 1985 in Accra, Ghana.
Asamoah Gyan is the third born of his family born to Mr George Baffour Mensah
Gyan, an accountant and the late Madam Cecilia Gyan Baffour Mensah (Nee Cecilia Love Amoako) educationist. The passion for football and music was evident as the artistry manifested at a younger age. Asamoah Gyan started football at a tender age when he played for Liberty Professional youth and Cedaps colt club in Ghana. He had his primary and junior secondary education at Seven Greats Academy and his senior secondary education at Accra Academy where he featured for Ghana Academicals team during his school days in 2001. He was recalled into the Liberty Professional team in 2002 and loan out to Stay cool professional in the lower division to help their promotion into the elite division.
Asamoah Gyan began his professional career in 2003 with Ghana Premiership club Liberty Professional scoring a prolific ten goals in sixteen matches. He caught the attention of Italian Seria A giants Udinese, he since has gone to play in France for Rennes, In England for Sunderland, In United Arad Emirate for Al Ain, Al Ahli, in China Shanghai SIPG, in Turkey for Kayserispor and in India for North East with over 340 appearances and 180 goals at club level and still active. He remains Ghana all times highest goal scorer with 109 appearances, an Olympian, 2 times runner up at AFCON, he became the top African goalscorer in World Cup finals history by scoring the Black Stars' equalizer in the 2-1to Portugal, first Ghanaian to score at the world cup and only African to have scored in 10 consecutive competitions and leading goal scorer of the Asian Club Championships. Asamoah Gyan scored Ghana's enterprising equalizer against England at Wembley in the international friendly on 29 March 2011.
In summer 2010, Gyan recorded and released a Hiplife song with Castro the
Destroyer, where he features under the alias "Baby Jet". The song is entitled "African
Girls" The song won an award at the Ghana Music Awards in 2011. He also joined Castro for another duo "Do Da Dance and again Odo pa which won the Hi-life song in Ghana 2013, Gyan recorded another banger dubbed "enemies" with Stonebwoy BUSINESS
Gyan Investments Ghana Limited (GIGL), is a limited liability Company based in Ghana West Africa, the company has a strong financial background to transact international business. This is because Gyan Investments Ghana Limited has the internationally acclaimed Gyan brothers Asamoah Gyan, Captain of the Ghana Blacks Stars and Al Ain of UAE and Baffour Gyan former Black Stars Player and businessman as Directors. The vision of GLGL is to develop and grow as the providers of quality products and services at the most affordable terms in the ever-emerging market. Building shareholders' value, creating strong and trusted chain whilst fulfilling cooperate responsibility is our mission.
The core business of the company among other things includes Paradise Pac treated water, Importation, Real Estate Development, mining equipment hiring and general business. The company has 2 units fully furnished building opposite Trassacco Valley at East Legon, 8 units of semi-detached property located at Nkwantanang off Madina for sale and rentals, boost of 8 mining excavators for hiring, real properties in Dubai, UK and host of undeveloped landed property across the length of the country, warehouses, stores and depots.
Baby Jet Promotions is a subsidiary of Gyan Investment Ghana Limited owned by the Captain of the Black Stars, Mr Asamoah Gyan. Baby Jet Promotions is an event organizing outfit, music, movie and sports Promotions Company. It is known for successfully leading the crusade for the rebirth of boxing in Ghana by organizing the biggest local bout in Ghana between Emmanuel Tagoe "the Game boy" and George Ashie the "Red Tiger". It went on to Sign the winner of the bout after settling the long grudge which has taunted the sport his time immemorial in the heart of its lovers. Emmanuel Tagoe has gone ahead to win a world title.
Asamoah Gyan was awarded an honorary degree by Ukraine-based Alfred Noble University in Kumasi at the Kwame Nkrumah University of Science and Technology for his achievements for his country and the various clubs he has played.
The award is in two folds- The Alfred Nobel Doctorate on a golden plate reserved for persons who have contributed immensely to the development of their countries and the Honorary Personality of Exemplary Leadership Award from World International Award.
Asamoah Gyan was enstooled as Chief by the Gbui traditional council for his contribution to the people of Hohoe.