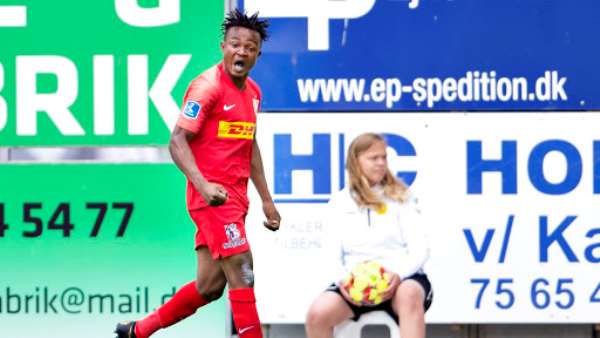 Ghanaian forward Isaac Atanga
Ghanaian forward, Isaac Atanga registered his name on the scoresheet on Thursday afternoon to help FC Nordsjaelland defeat FC Graesroedderne 5-1 in the Danish Cup.
The two teams were in action today to fight for a win to advance to the next stage of the Danish DBU Pokalen.
Although the Ghanaian trio of Maxwell Woledzi, Mohammed Diomande, and Abu Francis earned starting roles for FC Nordsjaelland, Isaac Atanga had to start from the substitute's bench.
With the Superliga side dominating the opponent, two quick goals from Oliver Antman and Mikkel Rygaard handed the side a 2-goal lead after 20 minutes of play.
Later on, Mark Leth Pedersen scored to halve the deficit in the 37th minute. However, FC Nordsjaelland will score again in the finals minutes of the half through Emeka Nnamani to make it 3-1 to drag the game away from the opponent.
After recess, Joachim Rothmann also scored for FC Nordsjaelland before Isaac Atanga scored on the 76th minute after coming on to seal a big 5-1 win for his team.