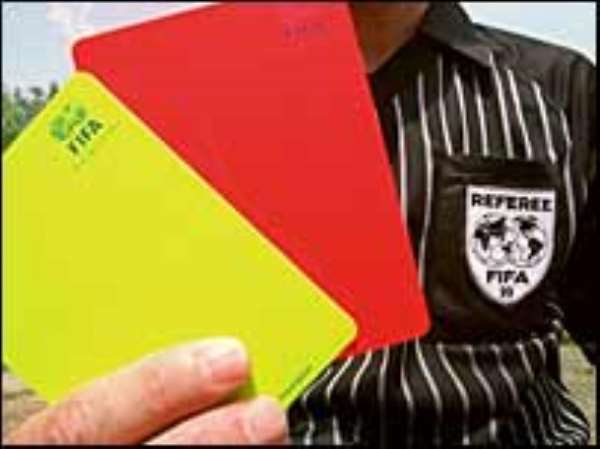 Five referees have been praised by the Professional League Board for exhibiting exceptional performances while two have been axed after a review of five matches in the premier league.
The Professional League Board has put on ice, referees Stephen Oduro and Kwao Sampson.
The duo, all Class One referees have been suspended indefinitely after putting up some awful displays in the premiership.
Gyasi Yamoah, another referee has been reprimanded.
Referee Stephen Oduro's performance in the second week game involving Bofoakwa Tano and Real Sportive at Sunyani was described as lacklustre as a result of lack of stamina, which kept him far away from the action spot.
The PLB has recommended to the FA General Secretary that Referee Stephen Oduro be put on ice until the Referees' Committee decides to try him in another match.
Referee Kwao Sampson was reported to have given a string of inconsistent decisions and exhibited poor stamina in the week four game between Bofoakwa Tano and Tema Youth at the Sunyani Coronation Park.
The third referee, Gyasi Yamoah according to the PLB, could not stamp his authority on the second week game involving Accra Hearts of Oak and Gamba All Blacks.
For referee Gyasi Yamoah, his inability to take control of the game is said to have led to his poor performance.
The Professional League Board has warned that, a repetition of such a mediocre performance by Gyasi Yamoah will lead to the cancellation of his name from the list of Premier League referees.
The two affected referees would be replaced from the stock of ten stand-by officials.
The five match officials who have received the PLB's approval seal after five round of games are: Alex Kotey, Vivian Aggor, Ebenezer Ferguson, John Listowel Zilevu and William Agbovi.
FIFA referee, Alex Kotey, was commended for the able manner in which he handled the match between Berekum Arsenal and Heart of Lions at the Berekum Golden City Park.
Referee Kotey was praised for having absolute control and displaying perfect knowledge of the laws of the game.
Miss Vivian Aggor, a FIFA referee, who was at the centre of the match between Real Sportive and Power FC at the Tema Park according to the statement put a good performance during the third week fixture.
Class One referee, Ebenezer Ferguson, was adjudged to have performed exceptionally well despite the soggy nature of the pitch due to the rains which rendered play very difficult.
In the match between King Faisal and Liberty Professionals, referee John Listowel Zilevu was commended for high performance in handling the match which received admiration from teams, club officials and spectators.
FIFA referee, William Agbovi's performance in the match-day-VI fixture between Great Olympics and Bofoakwa Tano was described as very outstanding