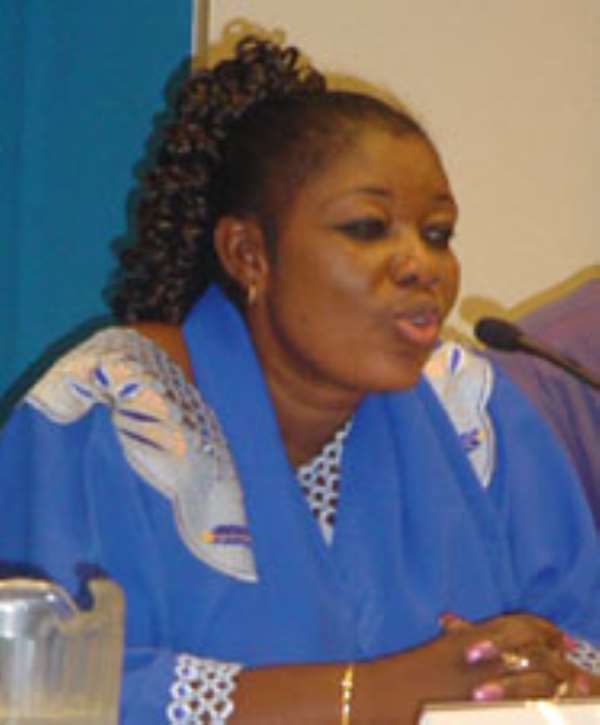 • As Protocol pursues her for official vehicles
• She repulses them and threatens to quit parliament
THE FORMER MATRIARCH of Cape Coast politics, who delivered the central regional capital to the ruling party in 1992 and held onto it till 2001 in the face of three-pronged assaults on her, is on the ropes gasping for political life after being dropped ignominiously from her position as Minister for Science, Technology and Environment.
Now Chronicle investigations corroborated by Churcher hard-lined supporters have confirmed that Miss Christine Churcher is in agony, as protocol intensifies their pursuit for official vehicles given her as a Deputy Minister. The vehicles include a saloon Rover Marque and land cruiser.
Ms. Churcher who used to enjoy fuel allocation had that privilege withdrawn shortly after she was chopped from office without a day's notice while chairing an international conference in Accra in which her peers from other African and Caribbean countries were in attendance.
First to be withdrawn was the Areeba cell phone line number 0244xxxxxx, which was given her for official use.
Her deputy from the Upper East Region, Mr. G. Agambilla's, suffered a similar ignominious chop.
A United States-trained professional who was appointed as Deputy Minister of Finance, Mr. Agambilla was redeployed to the Ministry of Science and Technology as deputy to Christie and is said to be living in daily fear that his 'end of service benefit', the saloon car, will be withdrawn from him too.
But Chronicle sources close to state protocol confirmed to this reporter that Agambilla's Peugeot vehicle has been withdrawn from him as soon as it was gathered that the soft-spoken former Minister from Upper East and a friend of Hawa Yakubu's had accepted an appointment at GIMPA as a lecturer in Public Finance.
"Agambilla is the gentle type who does not believe in fighting… he simply allowed the vehicle to be taken away."
Ms. Churcher was in no mood to lie down like a lamb to be slaughtered. Reminiscent of the combative feisty spirit of Winnie Mandela, Churcher pointedly refused to allow the officials to take away her vehicles.
The Chronicle learnt that Christie conceded to demands from State Protocol to take away her first official vehicle, a VW Passat, because they promised to substitute it with the cheaper Rover model.
To the Minister therefore a subsequent demand to her to surrender the Rover after working for five years as a Minister – first as deputy Minister of Education and later as a full Minister – was a humiliating exercise that cannot be countenanced by a woman who fought the National Democratic Congress (NDC) and vanquished them for the prized Parliamentary seat of Cape Coast.
With no whiff of scandal, Miss Churcher's track record at both Ministries is without blemish. The only downside is that her political base has seen significant change with an overwhelming majority of the Cape Coast constituency of the NPP shifting their loyalties to the Oguaa Akoto-led group, with Edwin Buckman the youth organizer and Parliamentary aspirant.
The issue of her refusal to visit her constituency to meet with her supporters has been used against her, and her lukewarm attitude towards the dwindling fortunes of the party was compounded by credible reports that she contemplated quitting Parliament any time now, to force a bye-election at a time the NDC has gathered strength to launch a major challenge against a constituency that has been starved of all official party support and is financially crippled in spite of its vital contribution to the victory of the NPP in the elections of 2001.
Christie, who started life in politics first as a District Chief Executive during the PNDC administration, eventually joined the NPP as a founding powerhouse and gained prominence when she displayed courage and loyalty to the Akufo-Addo cause in the two-way battle between the current Minister of Foreign Affairs and current President J.A. Kufuor.
On 24 September 1998, at the deciding NPP Presidential Congress in Sunyani, she administered a verbal assault on candidate Kufuor in the same vein as that of Presidential brother-in-law, Hon. Mensah.
President Kufuor surprised most NPP supporters when Ms. Churcher was appointed Minister in his government, blunting charges by her admirers that her current fate may be attributed to her blistering criticism of then candidate Kufuor.