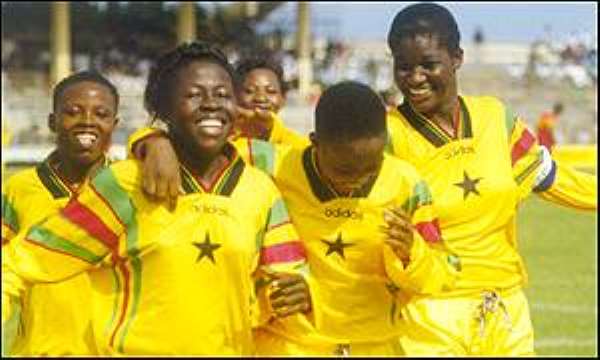 The spotlight will be on big-time soccer Oct. 16 as the Ghana Women's National Soccer Team will face the San Francisco Nighthawks, a Women's Premier Soccer League team, in an exhibition game at 7:30 p.m. at Justin-Siena High School.
The Ghana team — its players, coaches, staff and officials — arrived in the Bay Area earlier this week.
The team known as the "Black Queens" will be training daily and also participating in different events as they continue to prepare for the African Women's Championships, a World Cup qualifier, in November in Nigeria.
The 2007 FIFA Women's World Cup will be played in China from Sept. 10-30.

Ghana's two-week training tour is being hosted by the Nighthawks, who also play in the premier division of the Golden Gate Women's Soccer League.
Ghana and the Nighthawks will put on a free clinic, which is open to boys and girls ages 6 to 18, from 4:30 to 6 p.m. before their game at Braves Field at Justin-Siena.
Youths will be grouped according to age and skill levels. Organizers are asking for a $5 donation at the gate from adults to help with travel expenses. The game is open to the public.
"The Nighthawks are going to try to do their best to hold their own," said Jill Lounsbury, the Nighthawks' general manager, adding that the team doesn't have its Division I college players in the fall or spring due to NCAA rules. "We'll do our best to give them as much competition as possible. We'll be playing against one of the best teams ever. Ghana plays a very fast, unselfish game. The African game is very quick. The African teams will move the ball very quickly. It will be very exciting. We're expecting it to be a huge event."
Ghana will play an exhibition match Saturday against the Sacramento Storm — which is ranked as the sixth best amateur club team in the world — at Kezar Stadium in San Francisco at 7:30 p.m.
Ghana finished second at the African Women's Championship in 1998 and 2002, and took third in 2000.
Helping plan, organize and coordinate Ghana's trip to the Napa Valley is Kendra Shaner, a Nighthawks player, who was recently hired as Justin-Siena's girls soccer coach.
"I think it's a great way to kick off her tenure," said Derek McIntyre, Justin-Siena's athletic director. "The San Francisco Nighthawks are very supportive of her as one of their members and they wanted to help out and encourage soccer here at Justin-Siena."
"I couldn't be any happier, I'm thrilled for her," Lounsbury said. "She is a very passionate player who loves the game. It's going to really do a lot for that team as far as building a program. Her passion is undeniable. I think she'll bring that out in the kids as well."
The chance to host a team from another country is an exciting opportunity, both for Justin-Siena and the Nighthawks.
"It's great for a lot of people to come here to Justin-Siena and enjoy a terrific exhibition match," said McIntyre. "I think it's a great opportunity for them to see how the game's played on a different continent."
"My girls alone are going to get a lot from this," said Lounsbury. "When they get on the practice field and play with these women and see the speed of the game and see how unselfish they are, it's going to open their eyes to the American way of playing and the Ghana way of playing. It's going to be an eye-opening experience."
The Black Queens will also participate in the opening of a new soccer field in San Francisco through the city's parks and recreation department.