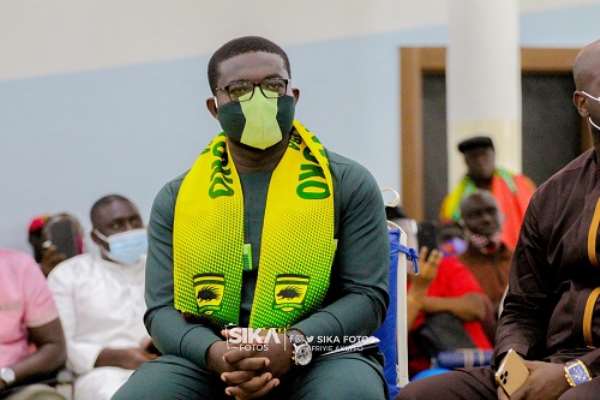 Asante Kotoko Chief Executive Officer [CEO], Nana Yaw Amponsah
Former Asante Kotoko defender, Joseph Hendricks has called on supporters of the club to lower their expectations on new Chief Executive Officer, Nana Yaw Amponsah.
The fast-rising football administrator was appointed on a three-year mandate to steer the affairs of the club.
With the club getting ready to participate in Africa next season, fans are expecting the club to win the 2020/21 Ghana Premier League and make an impact in Africa.
But according to Hendricks, the fans must lower their expectations.
"If things are not done transparently at Kotoko, it will not help the growth of the club.
"I know Nana Yaw Amponsah but not that much. He has contributed to Ghana football through his club Phar Rangers in the Division One.
"However, it is his first time at a big club like Kotoko and every person appointed to run the club wants to succeed.
"Moreover, I can't begin to praise him for now because I'm yet to see his work.
"We must wait for Nana Yaw Amponsah to stand the test of time before we begin to judge his work because we cannot point to what he has done so far we must not judge him now," he concluded.
Asante Kotoko last won the Ghana Premier League six years ago.
The Porcupine Warriors despite missing out on domestic league title for long, are the record titleholders with 24 cups. They are yet to hold on to any continental trophy since becoming twice champions in 1970 and 1983.