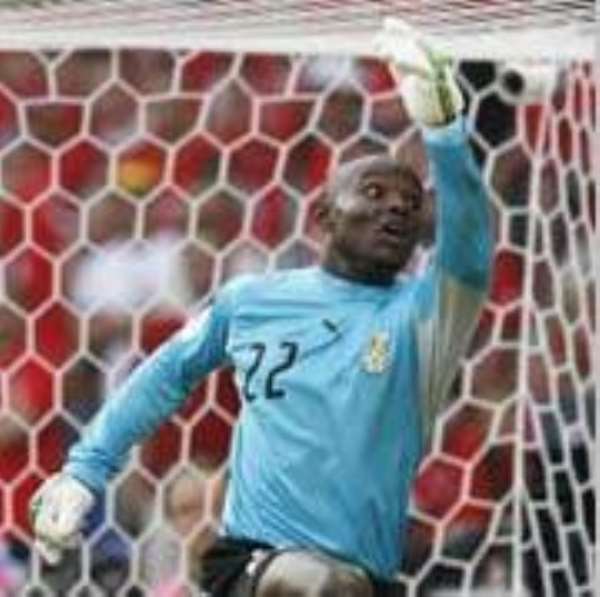 Is Richard Kingson Africa's best goalkeeper at the moment?
Imagine that you are a manager and your task is to choose an African XI for a game against a European XI. Not an easy chore considering the amount of African talent displaying itself on a global stage. Graeme Jackson takes up the challenge and names a team of African Stars and believes they would beat their European counterparts.
There's a term for this kind of daydreaming and it's called Fantasy Football. Not quite the Fantasy Football that you can play on the internet where you pick your 'dream team' and compete with thousands of other techno-cum-football geeks around the globe, but a more fanciful kind of reverie.
The question was, quite simply, how would an African XI fare against a European XI? Not very well, would probably be the quick answer of most football pundits and there may be some value in that opinion.


After all, the four semifinalists in the 2006 FIFA World Cup all hailed from mainland Europe, the UEFA Champions League is unanimously hailed as the world's finest club competition and the national leagues in Spain, Italy and England are agreed by all (except the lunatic fringe in South America) as the finest on the planet.
So it's not looking good for the African XI so far, but before we get into the matter of just how this match would pan out, let's just explain the criteria for selecting the teams.
A standard 4-4-2 formation for both teams was chosen and, because it is so achingly difficult to pick a mere 22 players from the entirety of two continents, we allowed the luxury of picking a starting XI and a bench of reserves who just missed the cut.
The African XI is made up mostly of representatives from West Africa's Ivory Coast and Ghana, who impressed during the World Cup, although traditional powerhouses Nigeria, Cameroon and Tunisia all have a representative, as do the ever-improving Mali.

AFRICAN XI


Starting Line Up

1 Richard Kingson- Ghana - GK

2 Emmanuel Eboue - Ivory Coast - RB

3 Arthur Boka - Ivory Coast -LB

4 Kolo Toure - Ivory Coast -CB

5 John Mensah - Ghana - CB

6 Mahamadou Diarra - Mali CM

7 Hatem Trabelsi -Tunisia - RM

8 Michael Essien - Ghana - CM

9 Samuel Eto'o - Cameroon- FW

10 Obafemi Martins - Nigeria- FW

11 Sulley Muntari -Ghana - LM

Reserves

12 Jean-Jacques Tizie -Ivory Coast- GK

13 John Paintsil -Ghana - CB

14 Joseph Yobo - Nigeria - CB

15 Stephen Appiah -Ghana - CM

16 Didier Zokora -Ivory Coast -CM

17 John Obi Mikel - Nigeria -CM

18 Didier Drogba - Ivory Coast -FW

19 Nkwankwo Kanu - Nigeria -FW

20 Dos Santos -Tunisia - FW
Richard Kingson gets the nod as the gloved one between the sticks. His acrobatic shot stopping in the final quarter against Brazil when the Black Stars had been reduced to 10 men was simply breathtaking. Ivory Coast's Jean-Jacque Tizie would be his deputy.
Two Ivory Coast defenders with speed to burn and a hunger to attack get the nod to play in the fullback positions. Emmanuel Eboue and Arthur Boka would provide ample width and attacking flair to back up the wide midfielders.
In the heart of defence, choosing the centre back positions is a no-brainer. Kolo Toure has been magnificent for both Arsenal and the Elephants in recent times and John Mensah's towering performances in the World Cup earn him the right to join the Ivorian in a partnership that is powerful, athletic and very, very quick.


Honourable mentions to John Paintsil (another who excelled in the World Cup) and Joseph Yobo (a rock for Everton in the past few seasons), who both make the bench.
A lack of genuine world class wingers means Hatem Trabelsi (nominally a right fullback) and Sulley Muntari (more of a midfield dynamo than a wide man) fill the wide midfield positions. On paper they seem strange choices but Muntari has a sledgehammer of a left foot, while Trabelsi possesses silky skills and excellent passing. Both would fill the positions with distinction.


Central midfield is an area of the pitch where African players, with their pace, work-rate and physical power, have become the preferred choice of some of Europe's most powerful clubs:
Chelsea boast Michael Essien (an automatic choice for the African XI) while Real Madrid's latest signing, Mahamadou Diarra, also gets the nod to start. What a combination they would form: both are quick, powerful and superbly gifted footballers blessed with an all-round game that would make them dominate any midfield battle.
On the bench, Didier Zokora and Stephen Appiah would make able replacements, while John Obi Mikel could be summoned if the team needs a player with an incisive vision and a penchant for goals.
The forward line would boast Cameroon's Samuel Eto'o, undoubtedly the finest striker at the moment, and partnering him would be Obafemi Martins. Many would argue for the inclusion of Didier Drogba (he's on the bench) but Martins is a far more natural goal scorer than the Ivorian and his blistering pace makes him the perfect man to force defenders to play deep and allow Eto'o to link with the midfield as he does so well at Barcelona.
Joining Drogba on the bench is Tunisia's Dos Santos and Nigeria's ageing but devilishly skillful Nkwankwo Kanu whose versatility (he can also fill a midfield position) and experience sees him edge out the similarly talented but moody Emmanuel Adebayor.
Europe's team sees most representatives coming from France and Italy who contested the World Cup final. Gianluigi Buffon, Gianluca Zambrotta, Fabio Cannavaro, Lillian Thuram and Phillip Lahm would form an imposing defence.
Patrick Vieria would roam in front of them, allowing Deco, the dynamic Steven Gerrard and Cristiano Ronaldo to support ace strikers Thierry Henry and Andriy Shevchenko. And there's plenty of strength in depth for the Euros, with the likes of Wayne Rooney, Alessandro Nesta and Andrea Pirlo sitting on the bench.


Now that the selections have been made and the thinking behind them explained, who would win? It's a superfluous question, simply because comparing the various players in head-to-head battles is useless.
The group of players that forms a better team, with an understanding of each other's strengths and weaknesses would triumph. Assuming that both squads gained a measure of coherency in their ranks, then perhaps the Africans would shade it. Why?
Because although sheer talent is an undeniable demand of a modern player, so too is pace and physicality. The Europeans may possess the more adept technicians in the likes of Deco, Ronaldo and Henry, but the Africans, with Essien, Diarra and Muntari would outmuscle and easily outpace their opponents in all departments.
European football may possess all the money and prestige, but almost every player featured in the African squad plays in one of Europe's biggest leagues. It seems then, that the Africans would have a slight edge in this fantasy match-up. Bring on the South Americans…


EUROPEAN XI


Starting Line Up

1 Gianluigi Buffon -Italy -GK

2 Gianluca Zambrotta - Italy - RB

3 Phillip Lahm -Germany -LB

4 Lillian Thuram -France - CB

5 Fabio Cannavaro -Italy - CB

6 Patrick Vieira - France -CM

7 Steven Gerrard -England -RM

8 Deco - Portugal - CM

9 Andriy Shevchenko -Ukraine -FW

10 Thierry Henry - France -FW

11 Christiano Ronaldo -Portugal -LM

Reserves

12 Petr Cech -Czech Rep - GK

13 Alessandro Nesta - Italy -CB

14 Carles Puyol -Spain- CB

15 Andrea Pirlo - Italy- CM

16 Claude Makelele - France -CM

17 Cesc Fabregas - Spain- CM

18 Wayne Rooney- England - FW

19 Fernando Torres -Spain- FW

20 Ruud van Nistelrooy -Netherlands -FW