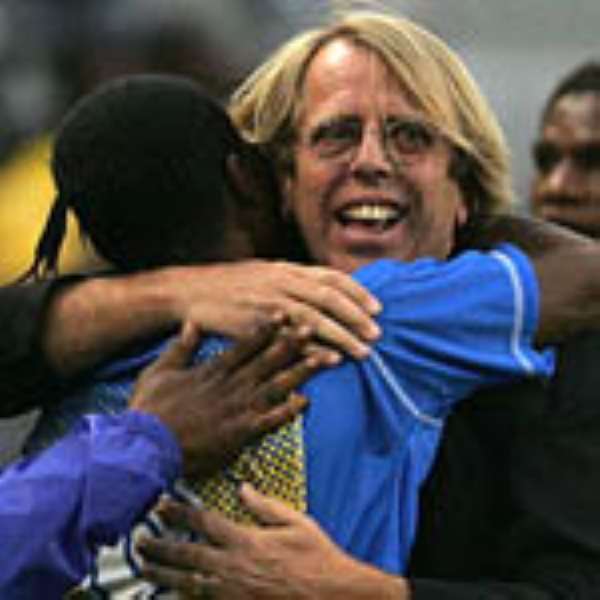 …Jones For FA Techinical Director Position
Former DR Congo boss Claude Le Roy, has been given the nod as the new head coach of the Black Stars. This follows an impressive showing at an interview by the Nyantekyi led 9-member search party. According to reliable sources close to the GFA selection committee, Le Roy will be formally unveiled today Monday, September 11, 2006.
He will have a monthly salary of 20,000 euro ($25,000/ 244million cedis) with no signing on fee.
Our investigations reveal that Le Roy presented a comprehensive outline of his action plan for Ghana during his interview which impressed the committee members. Le Roy has thus beaten off competition from former Ghana striker and coach Jones Attuquayefio to succeed Serbian tactician Ratomir Djukovic, who took Ghana to the second round at this year's World Cup in Germany. Our sources say the Frenchman scored 84% whilst Ghana's Jones Attoquayefio had 71% by way of their performance during the interview. Meanwhile the Ghana Football Association is likely to compensate Jones by giving him the vacant FA technical directorship position.
Le Roy is an experienced coach who has worked in Africa over the last 20 years and until this impending appointment, was the head coach of DR Congo, the only team Ghana failed to beat in the 2006 World Cup qualifying series. He first came to prominence by winning the African Nations Cup with Cameroon in 1988 in Morocco, laying the foundations for the Indomitable Lions' superb showing at Italia '90. In 1990, he took a then-unfancied Senegal to the semi-finals in the same tournament in Algeria, losing to eventual winners Algeria 2-1.
He was also in charge of Cameroon's 1998 World Cup campaign in France and his African experiences will only stand in good stead for Ghana as preparations are made for the 2008 African Nations Cup. Claude Le Roy's first games in charge will be the Far-east clashes against South Korea and Japan next month. He has returned to France to await the imminent announcement.