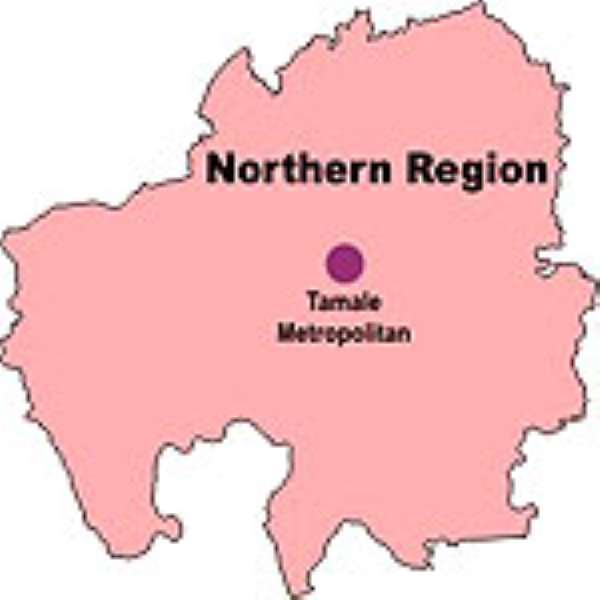 Map of Northern Region
Eighty per cent of construction work on the Tamale Sports stadium slated to host the CAN 2008 has so far been completed within seven months.
The Shanghai Construction Group of China started work on the project in January 2006 and the stadium is expected to be completed in October 2007. The stadium has a total site area of 26,831 hectares with a total building area of 22,517 square meters with a sitting capacity of 21,017.
Mr Mark Chen, the Project Coordinator made this known when the Northern Regional Minister, Alhaji Mustapha Ali Idris, the Tamale Municipal Chief Executive and other District Chief Executives from the region paid a working visit to the stadium last Thursday to inspect the progress of work.
The Project Coordinator said a total workforce of 230 made up of 150 Chinese and 80 Ghanaians are on site and explained that the Company had employed more Chinese because of their technical expertise and the time limit given for the completion of the project.
Mr Chen assured the Regional Minister that work on the stadium would be completed ahead of schedule and handed over to the government. He however, explained that work on a car parking facility for the stadium was not included as part of their work, therefore, left for the government of Ghana to give the order.
Mr Chen commended the Minister and the people of Tamale for their co-operation and the keen interest they had taken in the work on the stadium and described Ghanaians as "very friendly".
Alhaji Idris commended the Shanghai Construction Group for their dedication to work and the efficiency and speed with which they were executing the project. He said the construction of the stadium would go a long way to further enhance the cordial relations that exist between Ghana and China and hoped that more projects would be given to the contractor to further enhance the relations between the two countries.