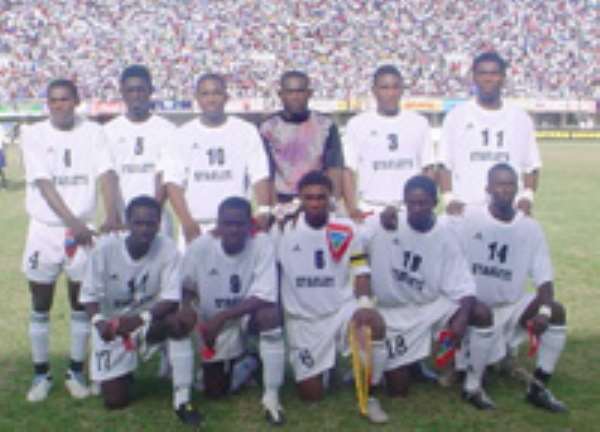 The national Under-17 football team, the Black Starlets beat their Benin counterparts, US Seme KRAKE 3-1 in an international friendly match at the Sunyani Coronation Park on Saturday.
The Starlets came close to scoring in the first 15 minutes of the game, but strikers Allan Saah and Abeiku Quansah missed many of the clear opportunities that came their way.
After several unsuccessful attempts at goal, striker Saah finally found the net in the 23rd minute for the opener after receiving a good pass from Quansah in the penalty box.
US Seme Krake got a good opportunity to equalise in the 39th minute, but the strikers sluggishly squandered the chance.
The Starlets went ahead to register the second goal, when this time round, Quansah made amends in the 42nd minute after left winger Francis Coffie and Saah combined beautifully to beat the defense of the US Seme KRAKE for Quansah to slot in the ball.
The Beninois side came back from the recess a refreshed side as they lifted their game plan considerably with series of deadly incursion into the goal area of the Starlets and rightly earned a penalty when Ghana's defender, Pero Gwalah brought down the visitors Okaja Raeael in the penalty box in the 47th minute.
FIFA Referee Christian M. Atsatsa who was around the spot rightly whistled for a penalty and skipper Flancandji Aimand beautifully converted the spot kick to register his side's only goal.
The Benin side from then kept on the pressure on the defence of the Starlets, but lack of cohesion and concentration by the strikers upfront denied them of capitalising on their advantage to reduce the goal tally.
Yessouf K. David and defender, Kitti S. Romuald of the visitors received yellow cards for rough play.
Black Starlet's striker, Moses Otiboe in the 69th minute laid a neat pass to over-lapping Ransford Osei, who surged forward to lob the ball over the advancing defenders of the US Seme Krake lads, before slotting in the ball into the yawning net to dampen the spirits of the visitors.
The Starlets again lost another opportunity to increase their goal tally when left winger, Francis Coffie's saw his beautiful shot hit the woodwork in the 72nd minute.
Later in a post match interview with the GNA Sports, Starlets Coach, Mr. B. K. Hayford admitted that the team was very young and needed more intensive camping.
Coach Hayford said the technical team would work hard to improve on the performance of team, especially on its shooting prowess before it meets Guinea in three weeks time in their qualifier for the African Under-17 tournament to be hosted by Togo early next year