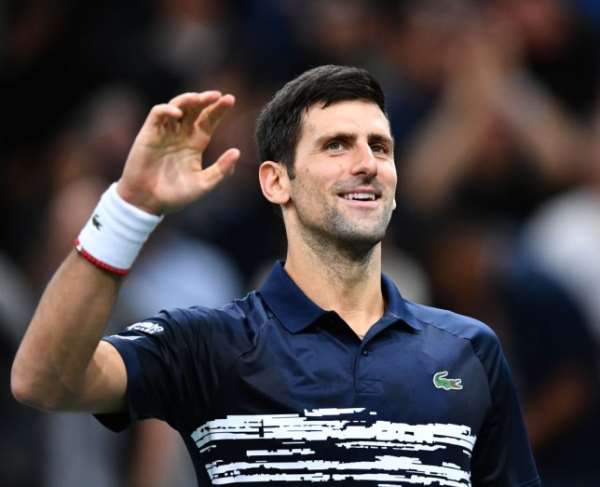 Novak Djokovic smiles on the court Image credit: Getty Images
Novak Djokovic has said that he is now "happy to confirm" his participation for the US Open after months of deliberation.
Djokovic, who contracted Covid-19 himself after his ill-fated Adria Tour event, was always expected to play at Flushing Meadows - the first Grand Slam after the tennis calendar was brought to a standstill - but has now given organisers a huge boost by making it clear that he will be there to compete.
With Roger Federer and Rafael Nadal not taking part in the event in New York, the world number one will now be considered the overwhelming favourite to clinch his fourth US Open title.
"I'm happy to confirm that I'll participate at #CincyTennis and #USOpen this year," Djokovic, who last won the event in 2018, wrote on social media on Thursday.
"I am aware that this time around it will be very different with all the protocols and safety measures that are put in place to protect players and the people of New York."
The US Open is scheduled to start on August 31 at Flushing Meadows, with organisers adamant the Grand Slam will go ahead behind closed doors.
Women's world number one Ash Barty has also withdrawn from the event, so too Nick Kyrgios. Nadal - who won his 19th Grand Slam when he triumphed at the US Open last year - admitted it was a decision he "never wanted to take".
For Djokovic, this will now be regarded as a golden opportunity to win his 18th Grand Slam and further narrow the gap on his rivals Federer and Nadal, who boast 20 and 19 titles respectively.
"I have trained hard with my team and got my body in shape so I am ready to adapt to new conditions," Djokovic added in his announcement.
"I appreciate everyone taking time, effort and energy to organise these two events for the tennis players to go back to their working field."
The 33-year-old Serb was victorious at the Australian Open at the start of the year as he further established his grip on the men's game. He now has the chance to reassert that dominance in tennis' return to Grand Slam action.
Djokovic has been heavily criticised for many of his decisions during the coronavirus hiatus, but he will now regard returning to winning ways at the US Open as the perfect way to respond on the court.