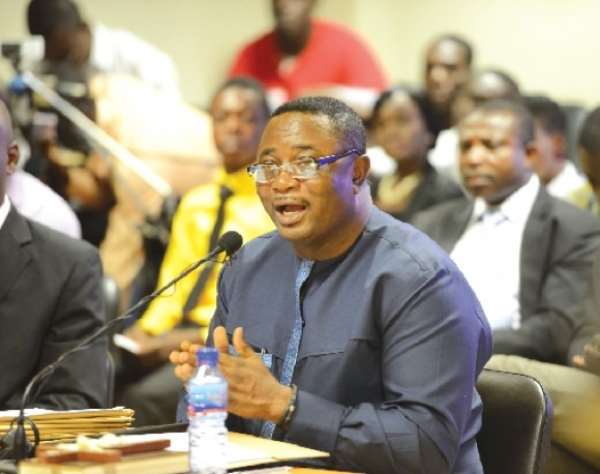 Elvis Afriyie Ankrah before the 2014 Justice Dzemefe Commission
Black Stars chief drummer, Joseph Langabel has revealed that former Youth and Sports Minister, Hon Elvis Afriyie Ankrah, was sabotaged by his party officials during the 2014 World Cup in Brazil.
Ghana's participation in the 2014 Mundial was soiled with allegation and embezzlement of funds making it the worse tournament the country has ever participated.
Mr Afriyie Ankrah is famously remembered for crying when he was called by the Dzemefe Commission to answer questions on what led to Ghana's early exit from the tournament.

Joseph Langabel
"I warned the Minister about plots behind the scenes by senior officials close to him and at the Sports Ministry to make sure he messes up because they saw him as getting too popular and powerful," Langabel told MAX TV.
He further mentioned that former deputy Sports Minister Joseph Yamin as one of the people behind plots to disgrace Afriyie Ankrah.
"Let me tell you something, Yaw, your brother was brought down by his people and not any opposition strategy. I knew about this because I am a ways and means person and I got information from all corners so I went to his office to warn him about some of his close political allies who were working against him but he did not take the necessary action that is why they succeeded in sabotaging him and you know what I am saying is true," he added.
Langabel was ever-present throughout the Black Stars World Cup qualifiers and was made an official member of the team's backroom staff.